Zomorrodi is one of the oldest and most popular Iranian jewel makers with more than 120 years of inherited experience and knowledge. Like any other historic and successful company, Zomorrodi has developed several business units across semi-related categories throughout their many years of business in Iran, including commercial real estate, industrial innovation, financial, trading and construction services.
Over the years, each of these businesses were able to claim a level of dominance in their respective fields, knowing the fact that some of them were more successful than others. Therefore, when Zomorrodi holding decided to unify the sub-brands as a well-appointed master brand, they encountered few but critical challenges. First of all, Zomorrodi holding never had a solid brand architecture to define its objectives and mission, which caused some miscommunication between the respective business units; secondly, some business units had negatively transferred brand value by subsidiary issues.
To develop a practical marketing plan in Iran, Zomorrodi approached our team at Zigma8 to help them with our experiences in branding and marketing areas in Iran. In fact, a master brand corporate trademark for a variety of products in a portfolio of offerings. The goal is to line affiliates under the master brand, even though they operate independently and service functions and this was the exact case with Zomorrodi. We wanted to execute a marketing plan in Iran to make consumers readily identify associated brands with the master brand, even if only subconsciously. Since consumers regarded Zomorrodi as a master brand positively, they would consequently accept that there is a consistency of quality and class across all brands and products.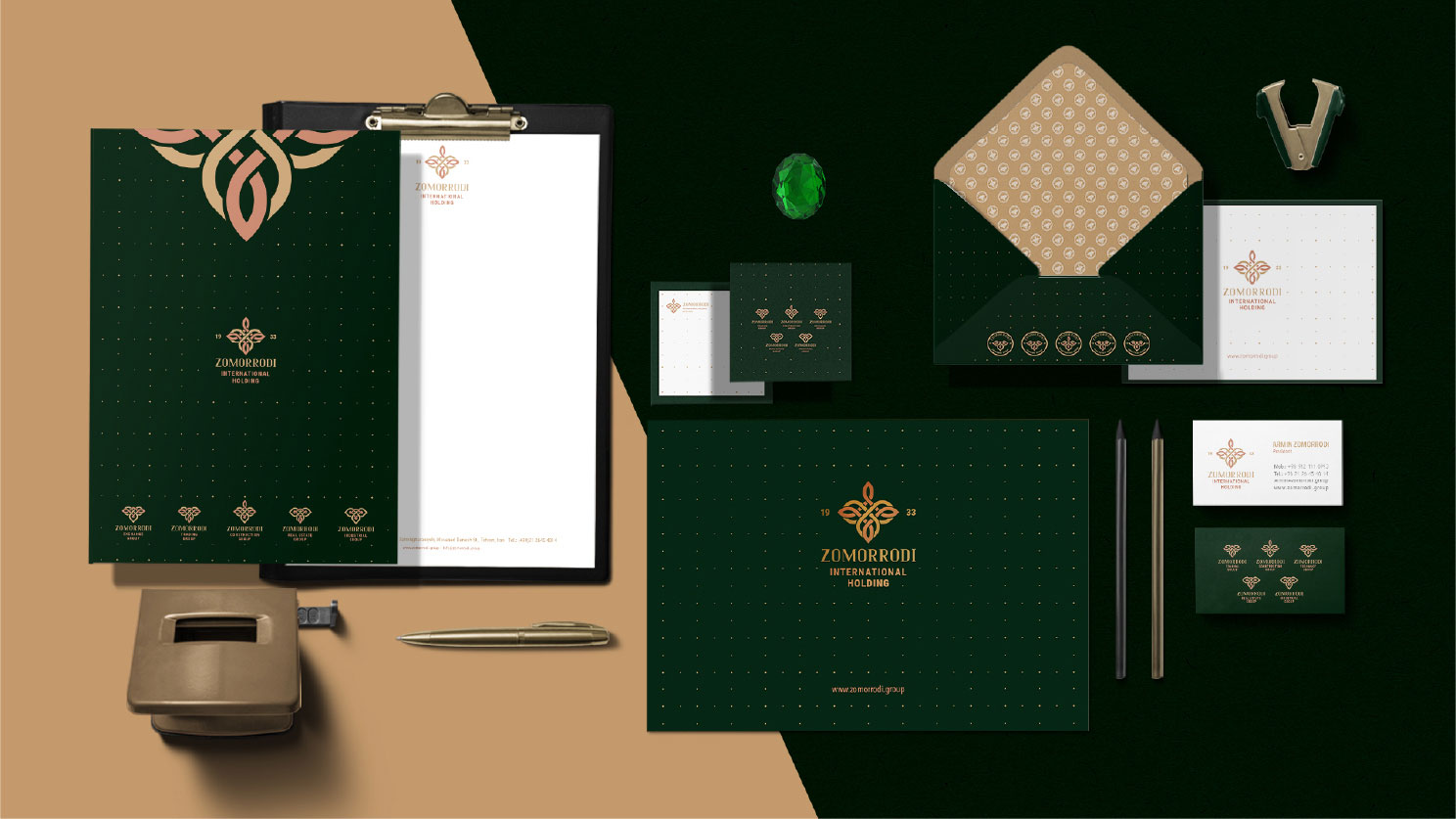 Creating Visual Identity with a Unified Marketing Strategy in Iran
Master Branding is a great way to maximize the return of investment, especially for iconic brands like Zomorrodi, which have a lot to say about their history. We wanted to deploy the best marketing plan to tap into consumers and target audiences with higher-order emotional cues. To remind customers of Zomorrodi's production history, we decided to go for a unified logo which would be a collection of sub-brands logos.
Similar visual identities as part of a general identity were a genius idea that could manifest power and authority. We combined symbols like a compass (to highlight international popularity), gemstone (to emphasize the emerald from the brand's name), and medieval curved pattern (to create luxury). We separated the general logo into four different pieces for each business unit, followed by exclusive brand slogans for each section.
With this in mind, our designers were able to leverage the heritage within a uniform style and highlight the differences between each of them. We wanted to advertise the grandeur of the brand and create a feeling of community. All these efforts towards the Zomorrosi family of logos were derived from the basic emerald color and a palette centered around its primary tones and complementary shades for all the business.
Increasing Inherited Brand Value with Video Production in Iran
According to some research, inspirational advertising videos have the real potential to boost conversion. We decided to knit the brand legacy and values into great inspirational and motivational videos based on Zoroastrianism. This concept is known as an ancient Persian religion, and we want it to be associated with the Zomorrodi historical background.
Our videos provided a compelling, visually-driven forum to tell the brand's story in the best way possible. They were designed in the style of an expansive and luxurious emerald-colored universe, which created fabulous human-to-human connections. Zigma8 successfully created narratives that inspire imagination with the help of video advertising in Iran.
Narrating the Brand Story with Exclusive Farsi Copywriting in Iran
Zigma8 copywriters decided to create an exclusive verbal identity expanded upon the ancient Persian values that were in sync with the brand. Therefore, we went for brand storytelling as a cohesive narrative that weaves together the facts and emotions that each business unit evokes. We tried to encapsulate the nature of this story in a series of slogans inspired by the historical act of making deals with the sun as a great witness and guarantor—the Persian sun, AKA. "Mehr" was a respected source to be worshiped and valued.
Weaving the divine visions with the brand's views allowed us to focus on the act and promise. The international holding was branded with "Priceless Promises" as the other business units included the word priceless followed by promptness, products, premises, and properties. We believe that storytelling for a brand ultimately maximizes the business visibility and impact. We treat copywriting, words, and stories as a compass for our marketing strategy. The results we get are profitable brands as they are captivating.
Promoting a Social Media Marketing Plan in Iran
To empower our marketing strategy for Zomorrodi, we also decided to promote Zomorrodi businesses' Instagram account and guarantee the success of the brand's digital presence. Our team began with ideation and creation of Zomorrodi's Holding social media. We wanted to understand the needs of audiences and position Zomorrodi as a prominent Iranian conglomerate. The goal was to interact with the audience through social media marketing in Iran and speak directly to them before the grand campaign was started. Zigma8 | 360° Creative Communications agency ran a pilot on the brand's Instagram account with creative, compelling, and interactive content to create devoted brand advocates and drive leads and sales.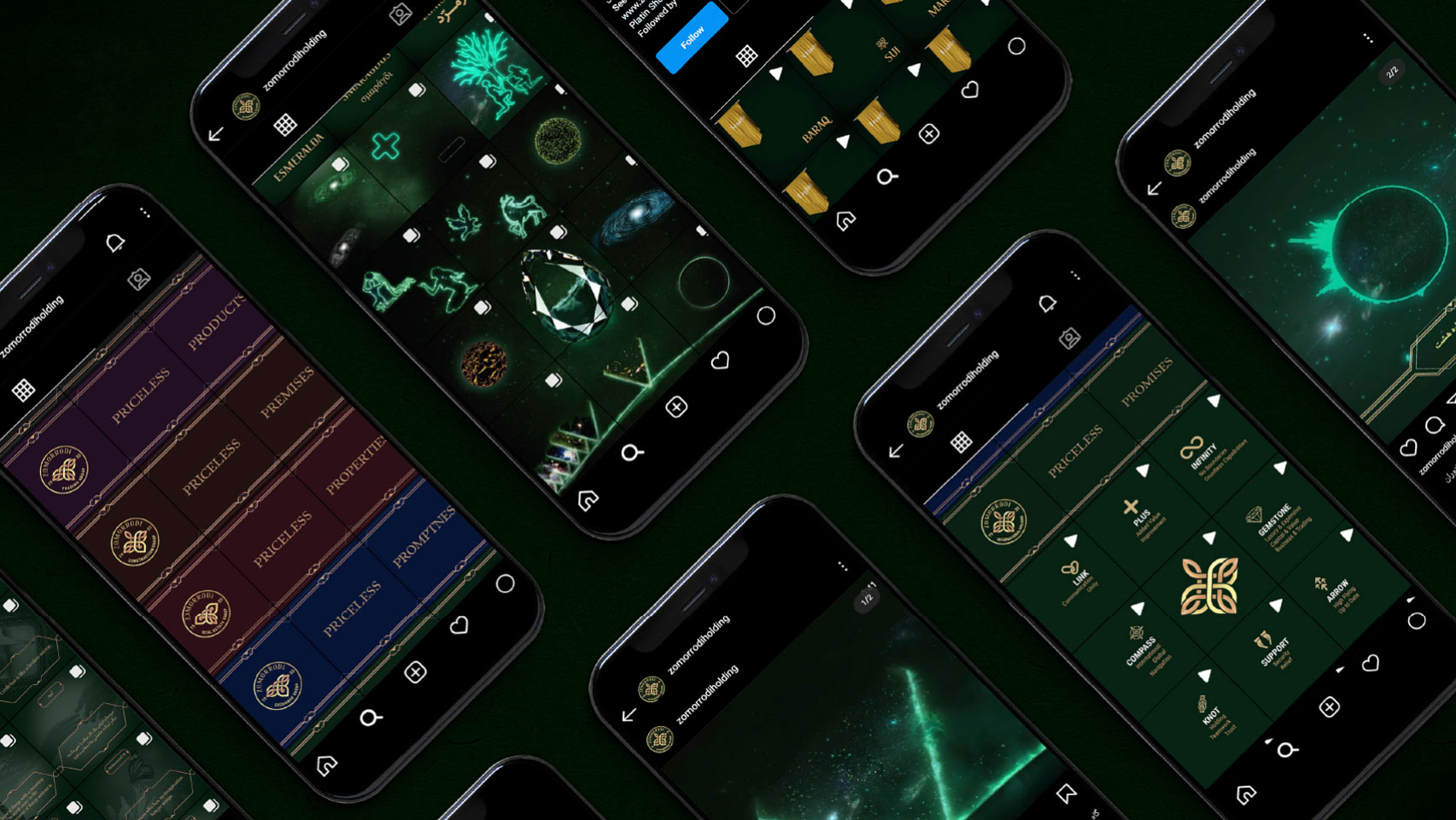 Integrating the Masterbrand Strategy to Make the Brand Shine
Eventually, our marketing plan in Iran led us to overcome the challenges and implement a master brand strategy that highlighted the brand's values and improved perceptions as a unified whole. We build a general holding that knows how to connect on an emotional level with its audiences. Driving value from more elevated general brands caused Zomorrodi business units to understand the brand architecture, its heritage, values, missions, and how each unit correlates. In addition, to better equip Zomorrodi for the future, we provided a full suite of branded touchpoints such as complete stationery sets.
At Zigma8, we offer a master brand strategy to brands that want to create a resounding emotional relationship with their audiences. This way, they will begin to feel positive associations with anything that features the brand's logo, personality, or overall personality stamp of approval. Note that an inconsistent or poorly conveyed master brand weakens the foundations of an entire enterprise. Our marketing and advertising team at Zigma8 start their projects with understanding. We want businesses to know and understand what they want to accomplish in the long term and how they want their brand architecture to evolve, and this is our key success in many Works we managed. Check out our services and let us know If you can lay out your plans for the future with our branding experts.