One day down the line, the goal of every business is to have a TV advertisement idea that makes an impact. An advertisement that resonates with the viewers and compels them to the cause.
Berttonix is a leather product manufacturer that was established in Germany in 1976. Through 20 years of successful journey, they decided to expand their business in Vietnam, Turkey, China, and Iran. Entering into Iran's market was not supposed to be easy for them. That is why they approached the Zigma8 advertising agency in Iran to help them overcome the upcoming challenges. The Berttonix new product was made based on Iranian customers' needs and culture. They wanted us to find a way to sell the shoes based on their benefits.
TV, the magical and powerful box in every house, was our first choice to promote this brand. The secret of making TV ads that move the viewers lies in being strategically designed to get results. For both brand awareness and immediate action, following a pre-thought advertising plan can help create a TV commercial that will grow the business no matter what. Now, let us discuss how we did a high-performing TV advertising plan in Iran for Berttonix company.
An Effective TVC Production in Iran
At zigma8, our most popular TV commercials are created in a way that the audience remembers not only the ad but also the brand and the message behind the ad. We wanted the Berttonix advertising plan in Iran to spark a connection with the brand and the audiences. We aimed for both memorability and effectiveness.
We started our advertising plan for Berttonix with a great script for TVC production. Since we have a limited time frame to capture the audience in a commercial, we must get the message across quickly. TV is still a powerful medium if used in a way that can draw in audiences. To do this, we decided to get beyond the style of typical ads and tell a different story. The highlighted difference between Berttonix and its competitors is the specialized curved soles of the shoes. This is what gives users a free-flowing step.
To advertise the brand's value, we separated every product element and blended them to create a thriving and cutting-edge 3D animation. The idea behind offering a motion was to create a reality and encourage the viewers to put their feet in the Berttonix shoes and walk with it in real life.
TVC production in Iran is the best way to communicate any product's benefit, and for Berttonix shoes, the result was beyond their wildest dream. Our designers created a hyper-real animation to capture the shoes' free-flowing motion and set it among scenes of an ongoing smooth running action when at last, it would end to the campaign slogan, "The Bespoke Footprint. "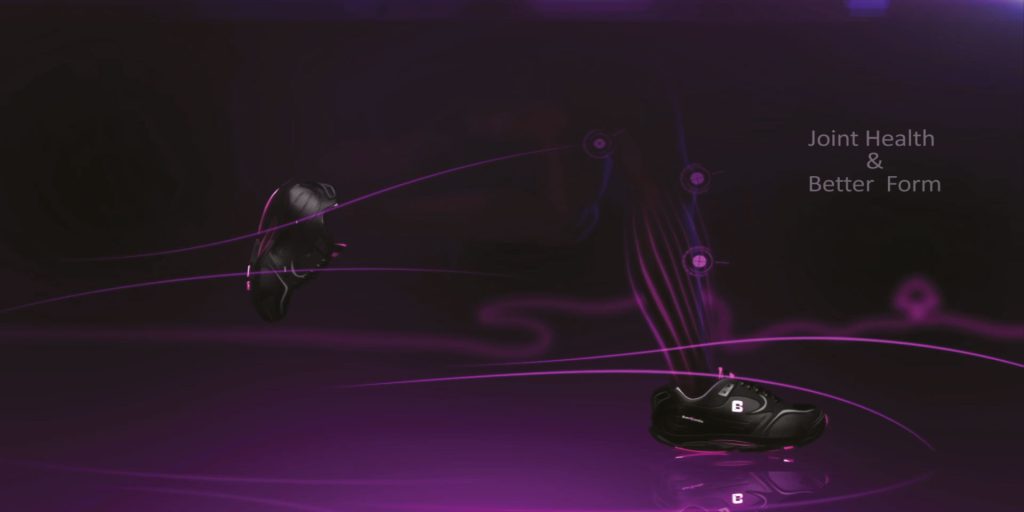 TV Advertising Strategy with a Solid Marketing Plan in Iran
Let us walk you through this inspiring process. At first, we selected to use the primary colors of the product in order to create a similar and interconnected atmosphere. Then we applied some transparent magic-like light lines moving up and down the surface. We placed diverse motions in real human legs wearing Berttonix shoes to portray how it would feel on the viewer's body.
Through the whole experience, we also were able to scan the special manufacturing structure of the shoes and the different components that were the main source of its medical effectiveness. We broke down the features into smaller ones, including ideal running posture and increasing stability, using Berttonix's unique approach, which concluded that the product had an amazing effect on joint health and better body form. The message was delivered while the animation showed how the Berttonix influences the runner's posture and activates muscles significantly.
And the final power move was that the animation ended in the campaign's slogan, "The Bespoke Footprint," which was the perfect method to wrap everything up effectively. It also was accompanied by the brand's website address to give the viewers a clue where to find the products. This is how we were able to not only achieve our goals but also surpass them. We thought strategically and selected certain TV channels and spots to publish the commercial, ensuring victory. Our client was so satisfied with the results that they continued to follow our tips and strategy in their future endeavors, especially campaigns.
Consequently, it is good to mention that at Zigma8, we begin advertising plans in Iran with a solid strategy. We help you find a clear picture of your brand's message to be implemented in a TV commercial (TVC). This is the foundation of a TV advertising campaign.
We are here for you. We are a marketing and advertising agency based in Iran that helps companies harness the most powerful aspect of modern marketing and advertising to engage customers in memorable and meaningful ways. Check out our advertising and marketing Projects to know more about how our strategies ignite sales and business growth. Go through our Services and learn about your needs. Contact us to show how we can help your business.