What would you do if you wanted your brand to stand out in the marketplace? Have you ever heard of event marketing for a b2b brand?
Event marketing is a type of marketing that allows promoting a brand, product, or service by holding, participating in, or attending events. It is an effective way to build more profound relationships with customers, attract funding budgets, create trust, and educate the audience about a brand.
Event marketing will create in-person or real-time engagements for people. It is overgrowing and has become an integral part of successful marketing strategies. Therefore, Zigma8, as a leading marketing and advertising agency in Iran, uses this based on both inbound and outbound marketing solutions for promotional purposes. That is why we decided to help KACC with a big-production event marketing plan. Let's walk you through it.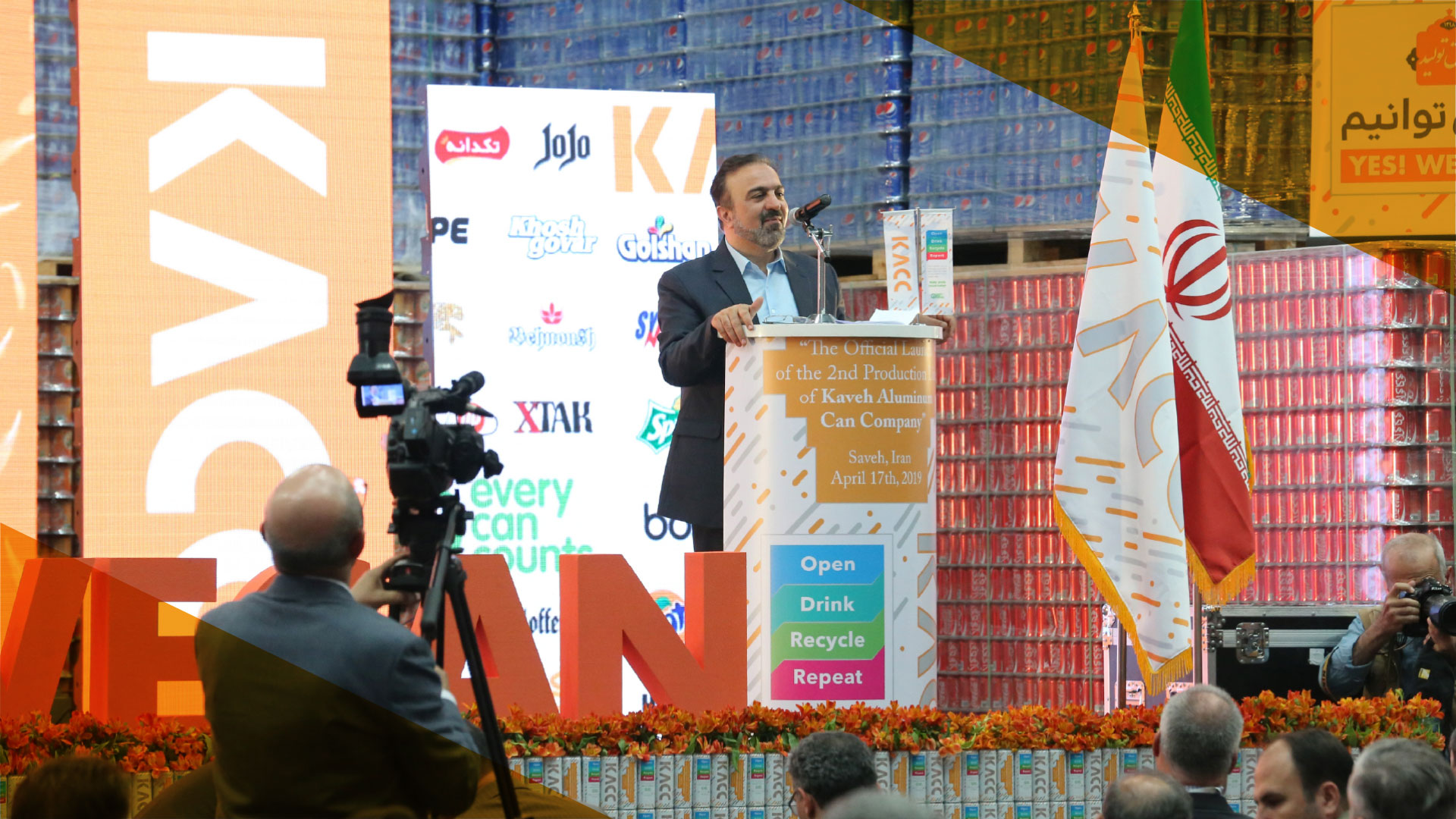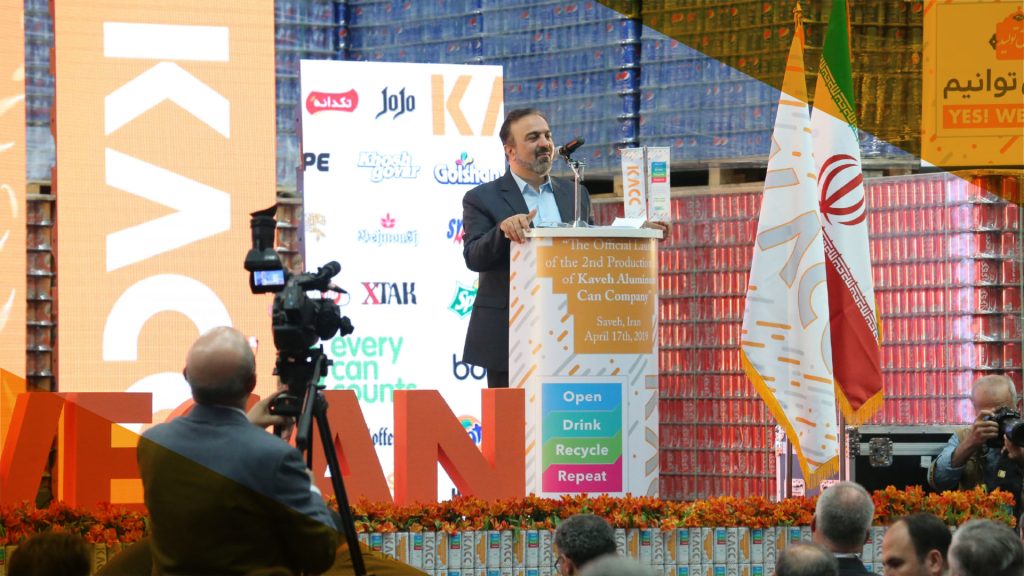 Designing a Marketing Plan in Iran and developing a launch plan event
KACC or Kaveh Aluminum Can Company, is the first and most known can-making factory in Iran, designing, manufacturing, and distributing aluminum cans all around Iran, the Middle East, and more. The company started to shine according to its innovative methods in terms of format, print, and ends, allowing them to grow over industry norms.
Since pioneer companies will face and tackle many challenges along the way, KACC needed Zigma8 the most to launch their new soft-drinks can-factory. Introducing a big production required a big opening. So KACC contacted us with two serious challenges along the way.
First of all, due to the U.S. unilaterally pulling out of the Iran Deal (Joint Comprehensive Plan of Action), various political, security, and economic impacts were imposed on Iran. The re-imposition of sanctions made many companies and investors worldwide abandon trading and investing in Iran. Luckily, KACC was secured by an over $50million funding budget from local and international investors in such a situation. How could KACC be able to draw more attention, build trust and attract investors?
And the second one was that the KACC introduction of the new line was about to be held right during the holiday season in Iran when the entire country was almost shut down. This is when suppliers are not available, or planning/implementing a huge event will become a major difficulty.
It is needless to say that KACC was lucky to find Zigma8, a well-established multi-award-winning marketing agency in Iran, to plan and promote the event from scratch. Our marketing skills and advertising intelligence made this event a turning point in KACC's business. We promised to organize the event within four weeks of preparing the opening according to the details provided by the team, and we did it flawlessly.
Event Management and Event organization in Iran
At Zigma8, we believe in the importance of event marketing and how it will help grow credibility. Partners, potential investors, and customers get a chance to interact with a brand and find it more trustworthy. This is why we treat events like a golden networking opportunities.
Now, when it comes to holding an event, -as a creative event organizer in Iran- we must use it as a powerful part of a healthy lead acquisition strategy. KACC, as a large, robust business, could gather an audience that has an interest in its field, product, or new opportunities in general. Chances are, the attendees will become valid leads, loyal customers, and future investors.
We decided to base our big production idea on the event revolving around the prominence of KACC values and mission. The factory's space was selected to be the exact venue for the event, as it was divided into multiple sections containing the entrance, welcome tent, the opening performance stage, production site sets, lunch lounge, and the enchanting surprise of the event, the maze.
The KACC event was about to invite about 300 high-profile guests, and we needed to address and impress them in the best way possible. We put together an event marketing strategy that would follow the enormity of the new production facility. In order to impress perfectly, we had to go big. We chose a unique solution to awe the crowd and had them all surprised.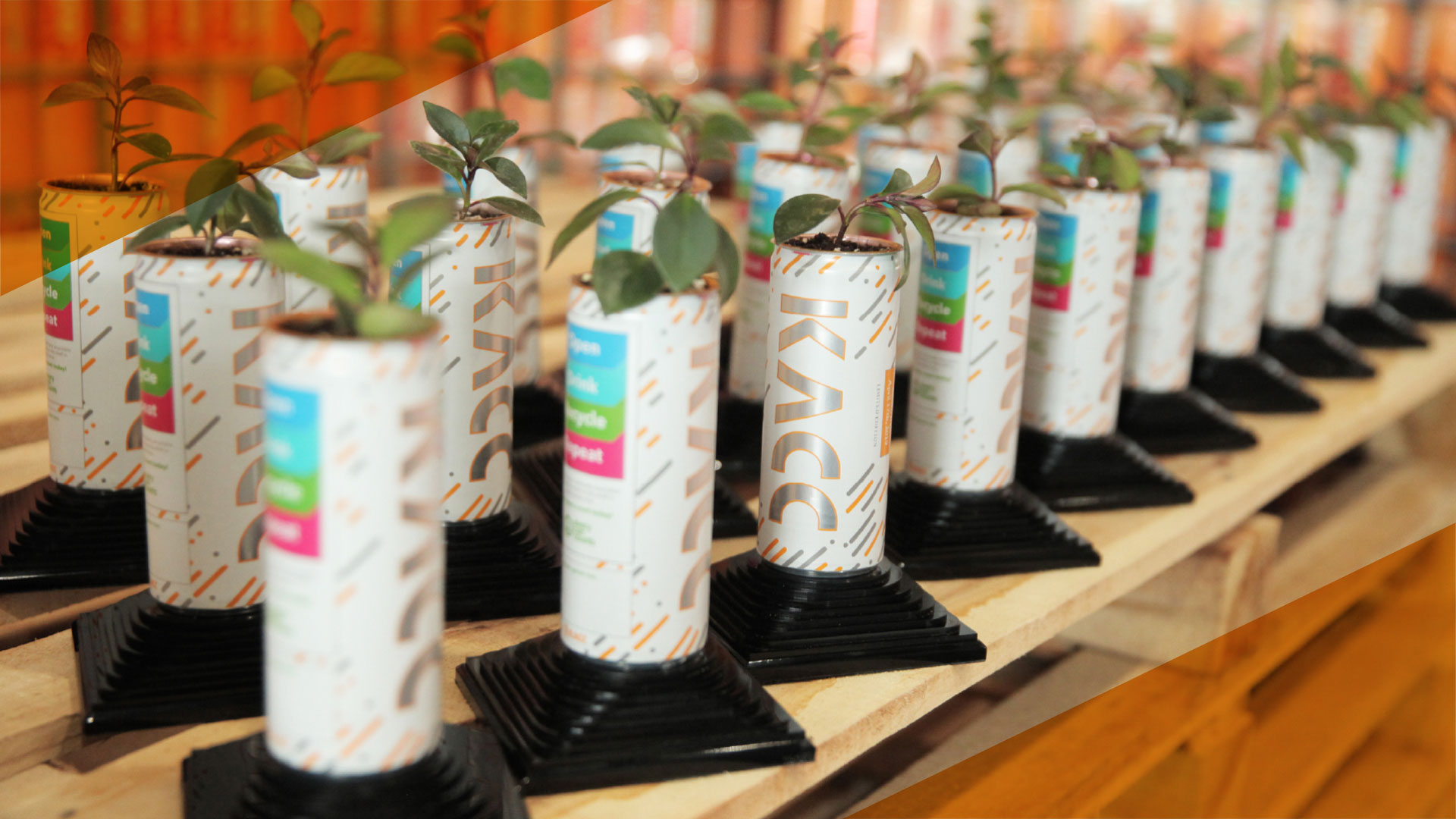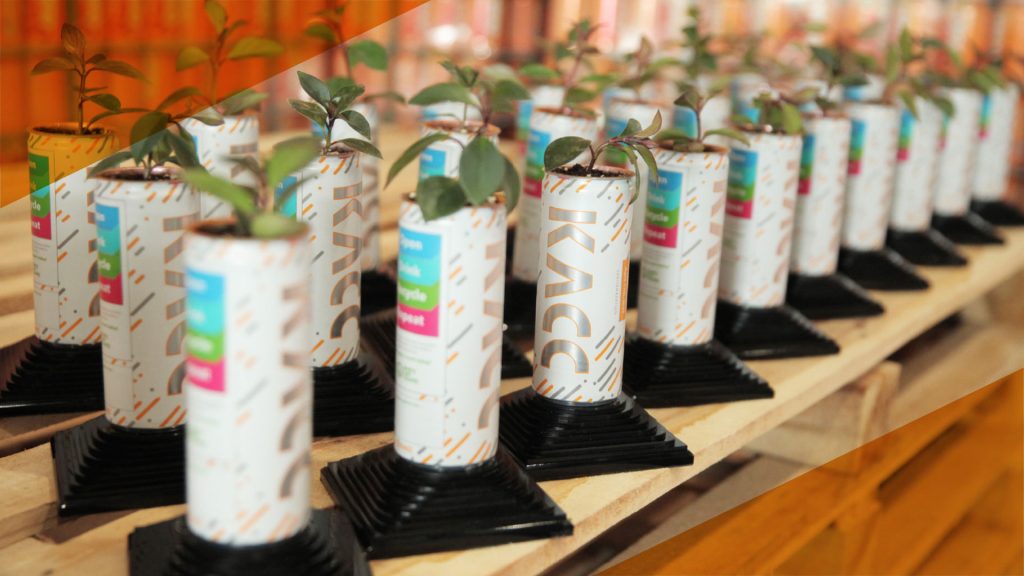 First, we designed and decorated the entrance with life-size infographics creating a fabulously detailed tunnel to chauffeur the guest in the right direction. They were received in a grand, luxuriously designed amphitheater with a flawlessly seated choir playing great harmonious classic symphonies all dressed in KACC uniforms.
While walking through the factory, we grab their attention with a surprising oversized can. Wecreated a big can and used it for 3D mapping to project an extraordinary light-show experience. The delightful combination of colors, contents, and music played through the can-shaped projector amazed the guests with a joyful and enigmatic experience.
Not so relieved from the last wonderful part, the guest got a tour through the can-made maze. Our team at Zigma8 decorated the main hall of the event into a maze built with more than 2000 pallets and 40000 cans to encapsulate the brand's image. We decorated the path with eye-catching, easy-to-read animations playing on large LCDs to explain the production process and introduce the new product.
The guests were directed through the fantastic maze while a heavenly jazz music echo was playing to guide them into their special seats, where we prepared another magnificent surprise, a can-built presentation stage. Following the KACC's presentation about the new production line, the guests were escorted to be catered launch in a highly prestigious designed location.
All Zigma8 aimed in this event marketing in Iran was to create an exceptional experience for attendees by combining high-end technologies, theatrical performances, and artistic-industrial attempts only to open a new horizon filled with opportunity in front of the brand.
We started big, and we wanted to end it bigger. Therefore, our KACC event was drawn to a close with a socially advertised message "Open, Drink, Recycle, Repeat" and "I Think Green Too," as we raised a pledge to sustainability and environmental protection and invited the guests to take the same step. At the same time, we appreciate their effort with symbolic commemorative souvenirs: a green plant in a recyclable aluminum can. We aimed for a memorable, worthy correlative ending, and we totally achieved it.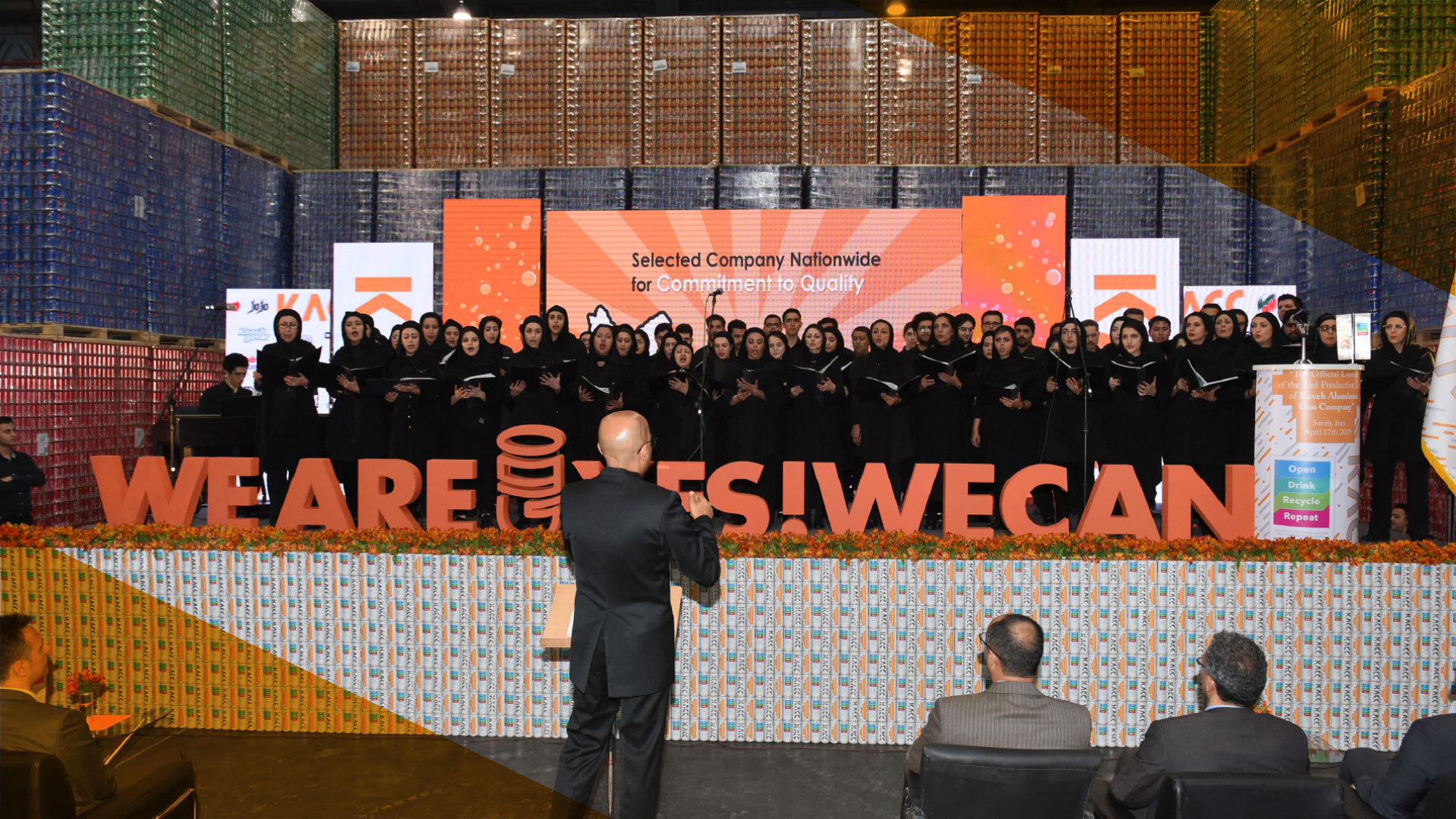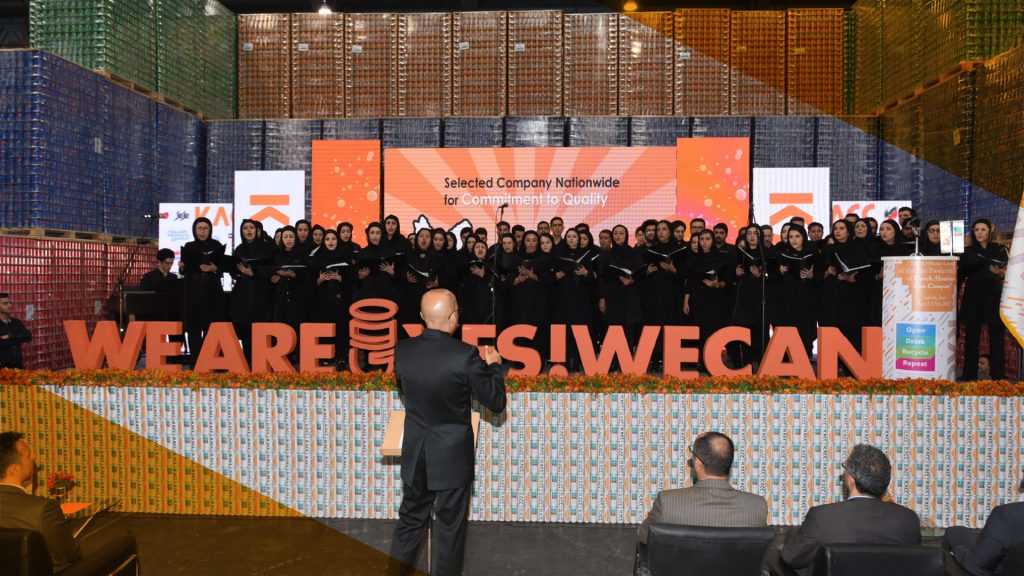 Zigma8 Awards for Designing the Launch of KAAC 2nd Production Line in Iran
Ultimately Zigma8 marketing and advertising solutions were praised by David Anderson, Group CEO of KACC; later, in a press conference, he admitted what we achieved was beyond expected. Our integrated, comprehensive marketing solution in Iran came to the aid of the Kaveh Aluminum Can Company to conquer the battle. All these led us to be awarded different prizes. To name a few, Zigma8 was awarded for the best Event (Gold) in the Events and Promotions category in ACEF Global Customer Engagement Award Winners (2020) and the Most Admired B2B Marketing agency in ACEF Asian Leaders Awards ( 2020).
At Zigma8, we can combine event marketing with digital campaigns to create more meaningful and lasting relationships with your buyers or investors. Whether you are planning an exclusive dinner, a sponsored trade show, or an informational webinar, our marketing and advertising Services will offer unique chances to interact with people on more personal and impressive levels. Events, if done right, are one of the most impactful marketing channels a brand can use. Check out our Works to see how our team implements and manages projects masterfully. What makes us feel honored and proud is the jaw-dropping result we bring to our clients. Contact us if you seek perfection.