An interview on The Huffington post with our CCO, Dr Damoon Mir, about Advertising and Marketing in Iran.
Interview with Dr. Damoon Mir, The CEO of the only Iranian full service advertising, marketing and branding agency to become an affiliate member of the 4As after the UN removed sanctions on Iran.
I had the opportunity to chat with Dr. Damoon Mir about his professional life, which has been quite wide ranging. As an example, he has worked with luxury construction brands like Mario Valentino Boulevard and Dubai Pearl in the UAE and Iranian luxury malls like Atlas Mall, both on his own and through his Tehran-based agency. He has worked as Art Director and Creative Director in the UAE-Dubai for three years, and was asked to work with one of the major Iranian advertising agencies as Creative Director and senior consultant to the CEO. After Dr. Damoon learned the advertising and branding Industry in Iran, and he saw how services to clients were lacking, he decided to start his own award-wining advertising, branding and marketing agency. This agency, Zigma8 | 360º Creative Communications, became the first and only affiliate member of the American Association of Advertising Agencies (4As).
Thanks so much to Dr. Damoon for taking the time to answer my questions for the Huffington post. His answers will clarify some aspects of the advertising and branding industry in Iran.
Please tell us about your international experience in the UAE.
I started working at StudioArt as an art director, one of the major production houses in Dubai Media City (DMC) and then I became Creative Director at APlus Dubai, which had headquarters in Paris, New York, Abu Dahbi as well. I had the chance to work with great real estate brands like Dubai Pearl, Mario Valentino Boulevard, The World. I also collaborated with master developers like Salya Homes, Alabbas Group, and Nakeel. I worked on an amazing event for the Boris Becker Hotel and Resort, and I did branding for "Santis HSE group" and "LA Brioche", the great French bakery and restaurant chain. They were all great experiences, and taught me a lot.
You were working with major brands in the region, so what made you decide to come back home to Tehran and continue your professional career in Iran?
It was great working and living in Dubai, staying at Palm Jumeira Island, and working in Dubai Media City and Emirates Towers; but each time I visited Tehran, seeing the billboards in the city and watching TV commercials, I would say, Why am I not doing this in my home town? I didn't even know who was doing this work, who the main agencies were, or how the work was getting done. (I found out later, when I came back to Iran).
One day a gentleman named Ali Dowlatshahi came to my office in Emirates Towers and offered me the position of Creative Director and Senior Consultant to the CEO (which was himself) in his company, "Soroosh-Rira". This was a semi private advertising company with major accounts in Iran, including Melli Bank of Iran, Agri Bank of Iran, Saderat Bank of Iran, Eghtesad Novin Bank, Day Bank, Mihan Insurance, Alborz Insurance, Samsung, Panasonic, etc.
It was a great opportunity to work with the clients who have the biggest share of media in Iran. I'm thankful to this man Ali, who later became my friend, because he offered me my dream job in Iran.

Do you prefer to work with big international brands, or small local ones?
There are benefits to both. When I work with smaller companies and brands there is more flexibility for me to shape their identity and tell the brand story. The bigger brands are fun because they have bigger budgets and bigger productions, and of course, bigger exposure.
Do you work with small brands or big ones in Zigma8?
It's really both. I can't abandon the local brands that I helped to create, but neither can I turn down the larger production budget of the big brands. But our focus at zigma8 | 360º Creative Communications is on Medium size and small size companies, which are more agile and has less bureaucracy, so it would be much more productive cooperation and tangible results for the client and us.

Do you use local artists/specialists for your projects?
I have spent more than 15 years in this industry and I believe the key to getting the best result out of each project is that I know lots of experts around the world, and I can tell which ones are the best for each job. When it comes to executing a project, there are no borders. I get the people who can do it the best, no matter where they live. Nowadays, all you need is an Internet connection, and you can have a team of people from around the world.
Most of the advertising campaigns in developing countries are local, and the advertising agencies are content to work on a local level. But your advertising and branding campaigns have more of an international perspective, and the acceptance in 4As proves this. Why have you chosen this route?
Today's technologies and the global use of the Internet has made communications a constant around the world, despite the differences in cultures. I feel that the whole world is using one language in advertising these days, and diversity is only in the smaller details. I believe when you communicate the right message to the right people, in the right place and time, it works the best, no matter what the country or culture. And let's not underestimate the audience -even ordinary citizens- nowadays are really smart and can spot the differences in brands. I try to respect the perception of the average person, especially when I am dealing with brands that are new to the Iranian market.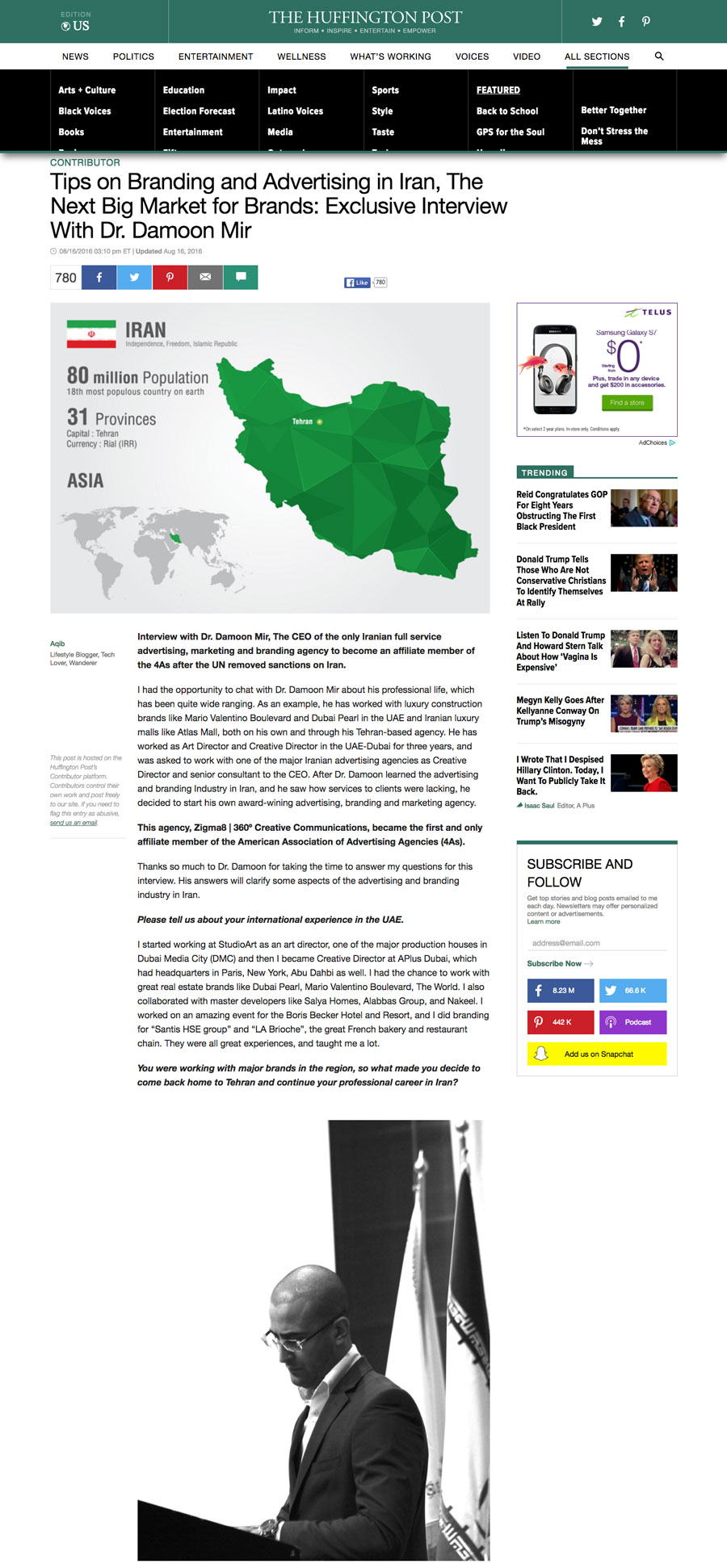 As the CEO of Zigma8, you design and develop not only practical campaigns, but you also use theoretical knowledge from your time as an academic. How do you balance the two?
This is from my diverse background, which combines Art and Strategic Management (I have MBA and DBA degrees from the University of Tehran). Actually, my field of study was Mathematics, but in university I switched to Art. I was fascinated by cinema and I studied that, but I also learned how to be a photographer, cinematographer, graphic designer, copywriter, TV commercial director, art director, and eventually creative director. All of that experience and study helped me to learn that what we really need in advertising and marketing is not art and creativity, but an understanding of the real audience for a product or service. That is the key to a strategic plan for a successful advertising or branding campaign.
It is quite an accomplishment for an Iranian advertising agency to become an affiliate member of 4As (American association of Advertising Agencies), since even many American agencies have not gained membership. So tell us, how did you do it?
This is where you might underestimate Iran and the advertising and branding industry there. In some aspects we cannot compare Iran with the US or Europe, but in many aspects we can. The main issue in the advertising industry in Iran is the focus on traditional media, which is really expensive and sometimes budget-consuming. I discovered that 4As is a rich source of data that can be used for almost any kind of advertising campaign, and I thought this would be a great advantage in the Iranian market, where they don't have as much access to data. So, I prepared a presentation about the advertising and branding campaigns that we had worked on. After they saw the scale and standard of our work and after lots of discussions with the experts at 4As, they accepted us as an affiliate international member.

How is digital technology affecting brands and businesses in Iran?
It is the same as the rest of the world. Digital marketing is growing very fast, especially with the widespread use of social media. The difference is that the average business is not aware of the importance of content, and they don't understand that the best use of social media is to spread valuable content through it. This is not a new story; it was the same for most medium or even large sized companies when they had to learn about the importance of having a Website. Right now there is a great opportunity for small and medium sized brands to overtake the big brands with strategic digital campaigns.
Is it difficult to advertise in Iran's market, considering cultural complexities and legal limitations?
Yes it is. As you mentioned, the cultural complexities in Iran and the legal limitations from the government make it challenging. On the other hand, the minds of our audiences are not as crowded with brand awareness as others in the world, and we are dealing with an audience that is open to creative branding and advertising campaigns.
How long does it take to become a member of 4As from start to finish?

It took about ten months from our first contact, and I really want to express my gratitude to Mollie Rosen, The EVP, Agency Relationship & Membership of 4As, who patiently guided us and helped us through the procedure. She never disappointed us, even at the start when it was far from our minds that it could happen.
Will you ever move away from advertising, Dr. Damoon?
No, my blood, sweat, and tears are in advertising. I live and die for this field.
Thank you very much, Dr. Damoon, and we congratulate you again in becoming an affiliate member of the American Association of Advertising Agencies. Your membership in this prestigious international organization will certainly encourage international brands and businesses to invest in branding and advertising in Iran.