Believe it or not, in the digital age, people are exposed to between 6,000 to 10,000 promotional messages or branded items every day. This can happen via TV, digital platforms, social media channels, or mobile media; therefore, getting people's attention can become a serious challenge.
Besides, the time people spend online glued to their internet-connected devices caused them a cultural alienation. Since they are repeatedly flooded by various content, people seem to care less about history, tradition, and culture every day.
With all that in mind, how would it feel to direct and stage a controversial play in this digital era? This was the meeting headline of Zigma8 advertising and marketing agency in Iran with Mohsen Hosseini, the director of Jangnameh Gholaman play, which was soon to be in theaters.
Since there happens to be a significant gap between Iranian audiences and controversial cultural play, the team contacted us to help them with this shattered image of historical art and make the upcoming play more desirable in the eyes of local theatergoers.
With effective social media advertising in Iran, Zigma8 reached out to the audience's intact desire and led them to reconcile with the nature of their sublime culture. Now let's dive into how we revolutionized the mundane mindset of biased theater audiences resulting in the show being sold out within a week.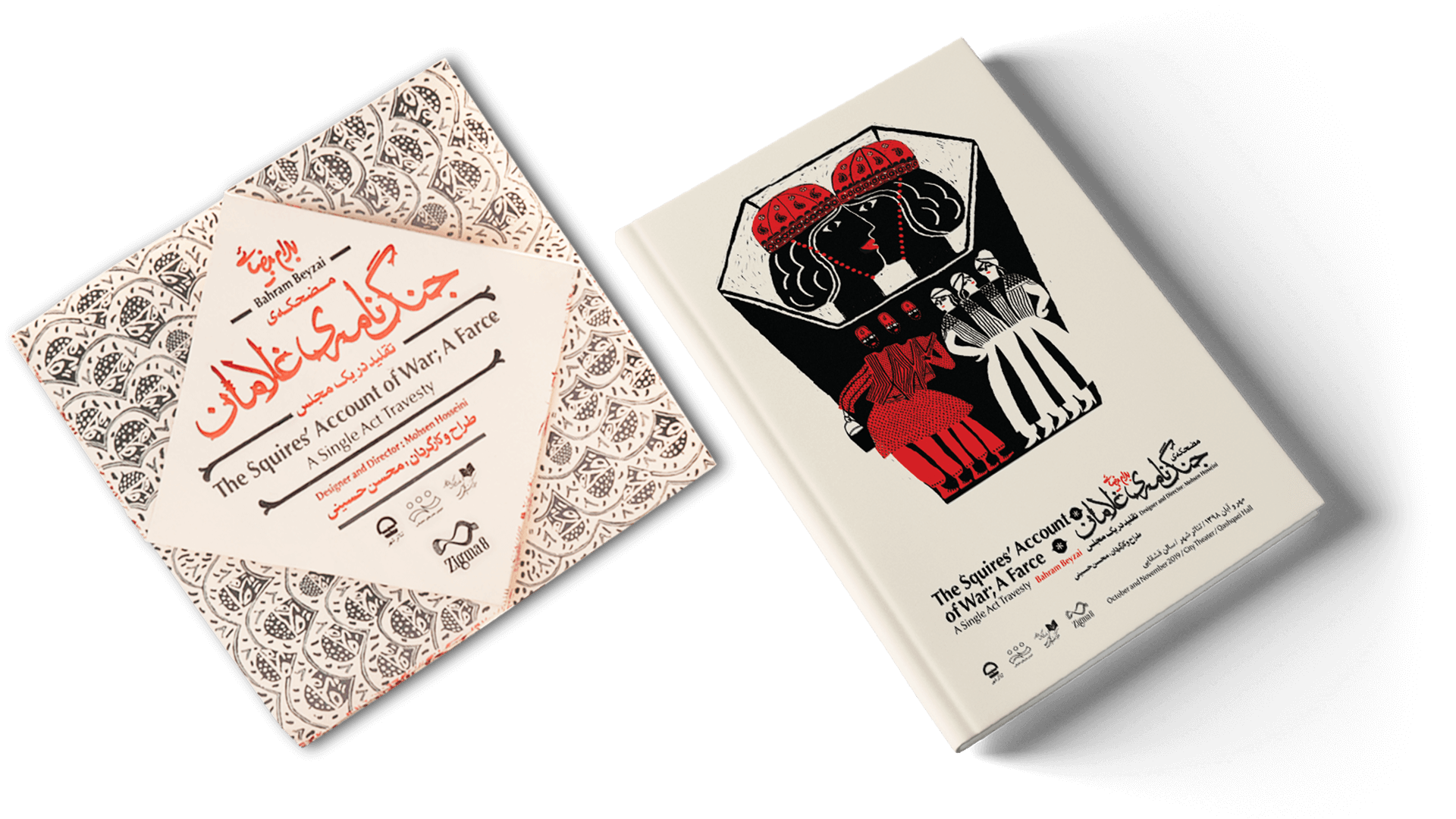 Advertising and Digital Marketing in Iran to Promote a Controversial Play
"The Squires' Account of War; A Farce," or as the original title suggested, "Jangnameh Gholaman " is a cultural-historical play (1985) written by Iran's fierce and famous playwright and director Bahram Beyzai. This play was never in theaters due to governmental restrictions and censorship regulations. But after years of ups and downs, Mohsen Hosseini, the renowned director, decided to produce and direct this play by all means in October 2019.
Jangnameh Gholaman is considered a controversial play. It tries to picture the part of the Iran and Iraq war with irony and satire prose dipped in a bite of political flavor. At first glance, the play may seem to be a narration of the events, but it is not. Beyzai skillfully wrote about two wars, one ended in victory and the other in defeat.
Such noble works of art were ignored for years, and now that people's tastes and desires are not even remotely close to what we call cultural or traditional, promoting a play that tells the story of our ancestors and their unfortunate destiny won't be an easy approach.
The fact is Zigma8 dug deeper into the habits of theatergoers and those who enjoy the performance art, which resulted in the idea that making this play appealing needs a whole new perspective. Winning the crowd's attention could only happen if we create a unique way to break the deal and magnify the beauty of traditional art in the eyes of the beholders.
Therefore, we employed extensive social media advertising in Iran to promote Jangnameh Gholaman in the best way possible. We chose a particular communication solution by learning from the traditional digital marketing methods and targeting key opinion leaders, influencers, celebrities, and those who can lead the crowd's intentions and value the national art. But how were we able to do so?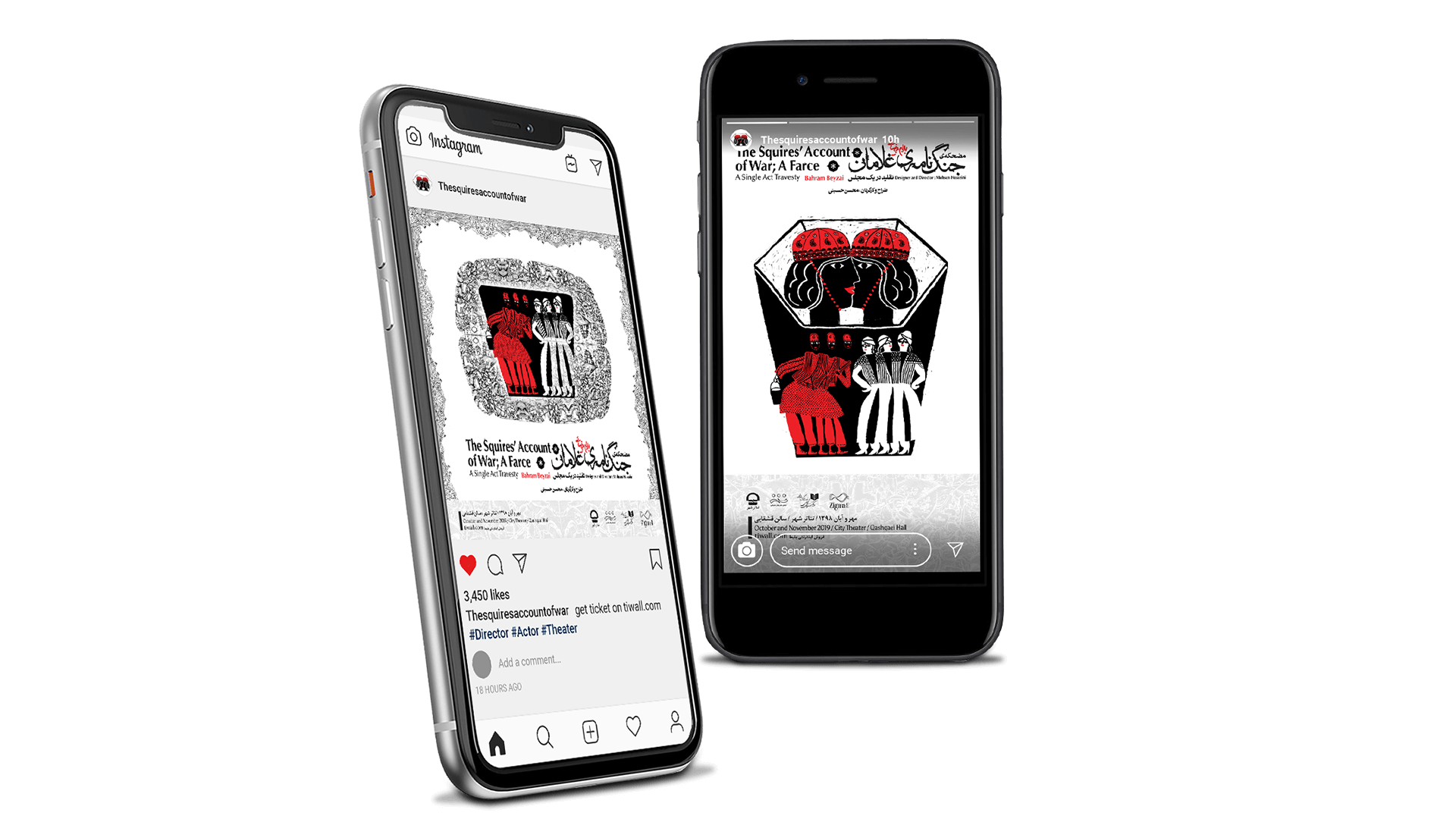 Conducting Social Media Marketing in Iran by Creating Attention-grabbing Content
To empower the play with an influential wave of advertising in social media, Zigma8 decided to engage people's attention and provide them with exciting yet valuable information and, in the process, change the way they think about a so-called historical-cultural play.
We did a thorough search and hand-picked a group of influential characters as a part of evangelism marketing for our social media advertising plan in Iran. Zigma8 surprised these people with a highly crafted invitation Package.
These artistic packages were aimed to be an inspiring pieces of art that combined the true essence of the play with the core of Iran's history. Our design team selected the most authentic elements to create a great connection that impresses those who appreciate art and culture. Our goal was to gain and increase publicity through our selected KOLs (Key Opinion Leaders) and unboxing these gift packages online for their viewers and followers made that happen.
The special packages included a purely designed papyrus scroll printed fabulously and elegantly, Jagnameh Gholaman full text, a theatrical mask (Thalia Melpomene), the play's brochure, and a decorated invitation of the play placed into a nest shaped box. The unboxing trend went exactly as we predicted, and within a few days, the masked unboxing of Jangnameh Gholaman was the talk of the town.
We were able to invoke a huge wave of publicity from different groups through our unique idea, including fans/followers of selected celebrities, theater lovers, and curious people on various channels. This was an enlightened moment for isolated theater seekers who joined the crowd once again and supported this amazing piece of art. In addition, to tempt the theatergoers, we also gained a noticeable number of new audiences, which caused the show to be sold out completely.
How a Smart Social Media Advertising in Iran Sold Out Beyzai's Play?
Our targeted social media campaign for the play was based on the innovative packages invitations; the show was sold out only within a week of them going on sale. In the end, the theater hall was filled with an enthusiastic crowd, and the sideways were also packed with unexpected show fans.
We didn't stop there and continued to surprise people even right before the backdrops opened. The team greeted early comers with an informative printed narrative of the play while they were directed to their seats. This caused the crowd to initiate an interactive conversation about promotional materials they received and the nature of the upcoming play.
Zigma8's effective CSR event equipped Mohsen Hosseini and his team to promote a challenging play into a legit success. At zigma8, we believe valuable works of art can still become visible to the crowd with the right strategy. This CSR event and social media advertising project of Zigma8, the 360° creative communication agency in Iran, was awarded in the "Brand Identity and Design" category at "Sarve Noghrei," 7th biennial, hosted by IGDS the "Iranian Graphic Designers" community. We also won the Asian Leaders Awards for the Best Corporate Social Responsibility Event (2020).
Now that people crave connection on social media, companies that create authentic connections with their customers will be more successful. If you are looking to boost your businesses' social media results check our Services and learn how Zigma8 can help you connect with audiences in more meaningful ways than ever before. We will help you realize how to utilize popular platforms to your full potential. Through our Works, we provide an in-depth overview of the evolution of online platforms along with insights into why and when to use each. Our goal is to help you authentically connect with your audiences throughout your professional journey.