Anyone who has traveled to France has surely walked into a French pastry with a heavenly smell, only to find a colorful, luxurious array of delicious desserts and cakes in the vitrine. Since the French have their baking recipes down to an art, French-style pastries are now sold in bakeries worldwide. People are now able to tell the difference between an authentic recipe and a made-up one. This familiarity with the concept of French pastry, including taste and ingredients, raises a challenge for anyone entering the business.
When La Brioche decided to grow the business and its market share as a cozy bakery to serve freshly-made French style dessert in the UAE, they found themselves surrounded by hundreds of similar businesses with the same style and attitude towards French pastries and faced with lines of customers who already knew what to expect.
We joined the La Brioche team as an advertising agency in Iran to help the brand with new advertising and marketing plans. From the first moment, we knew La Brioche needed an authentic story, a unique sensation to build its identity according to it. Therefore, we decided to redesign La Brioche values.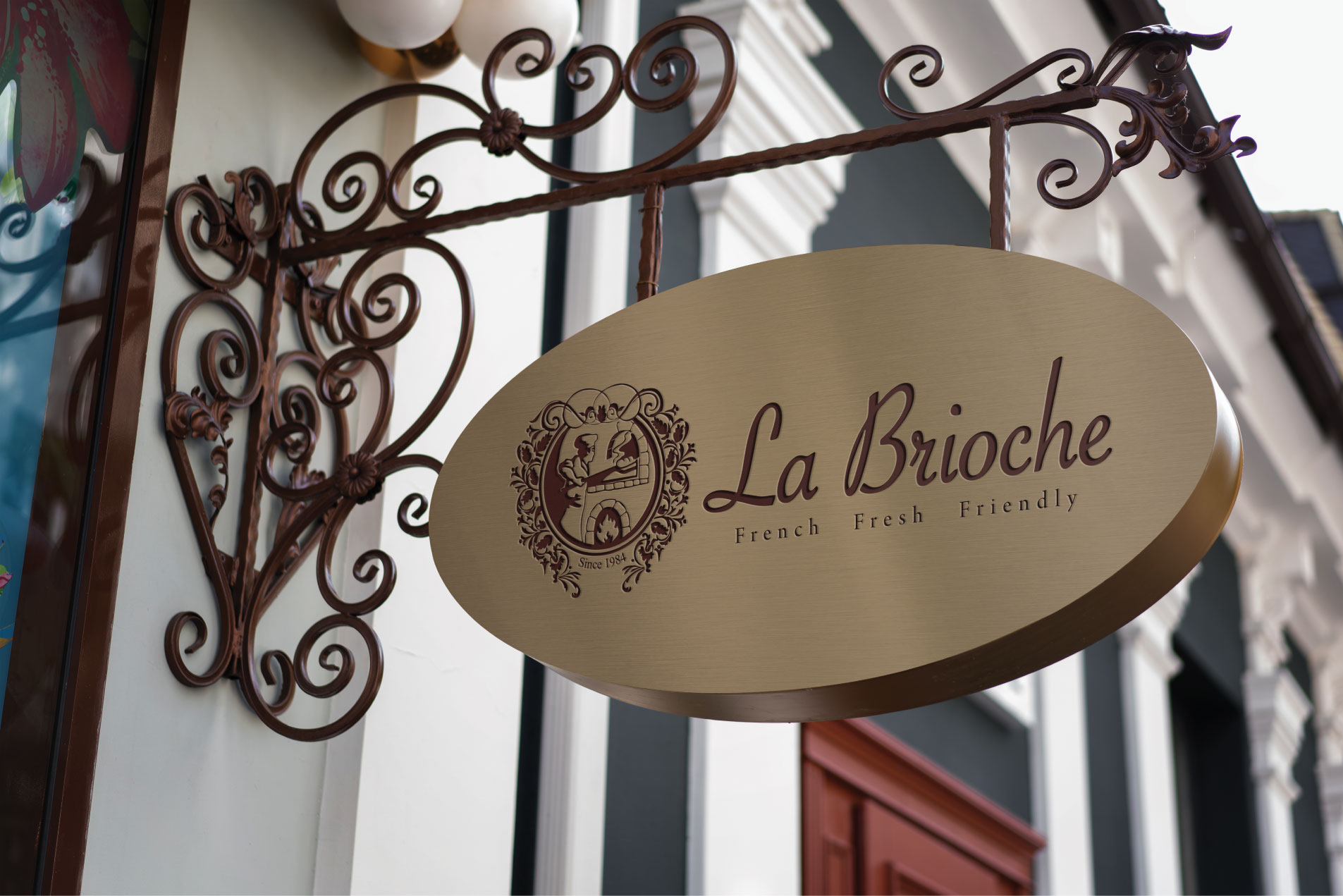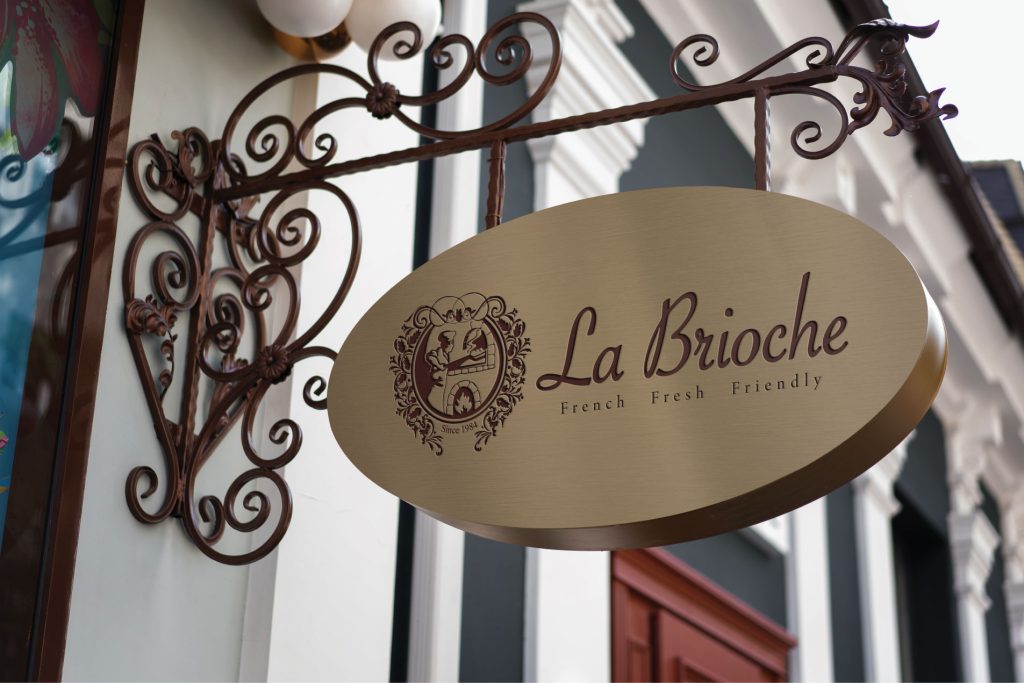 Designing New Logo and Slogan; First Step of Advertising
People in the UAE are already familiar with the taste of luxury French pastries, and there are plenty of French products distributed throughout the country. We required a feature to elevate customers' opinions about La Brioche products and fulfill their highest expectations. Zigma8, as a marketing agency in Iran, has studied the UAE culture toward French pastries and found out what they enjoy the most about these products. This leads us to achieve a thorough understanding of the market and the business. The solution to overcome their challenge was to create and build a strong, authentic, and flawless brand identity which is "Franchised" from A to Z. The best choice for La Brioche advertising activity was to redesign its brand identity. 
This brand redesign, as a part of the marketing plan, started with recreating the logo. La Brioche is required to settle for a classic, familiar, and compelling foundation that has a homely ring to it. A specialized logo is the cornerstone of a brand. It helps customers understand what a brand does and who it is and what it values. For the logo, we decided to go for the classic bakery image containing a baker and an old fire oven that was already used for the brand and add some flavors to portray the sense of homemade pastry. The combination of classic monochrome elements with the date La Brioche was born, since 1984, created a nostalgic feeling that can be seen only in French movies; an inherited bakery store in one of Paris's narrow streets filled with aromatic and delightful smells.
For the next step of this marketing project, we linked the logo with the best slogan. We figured out how to convey La Brioche's value proposition to their customer persona in just one short sentence; La Brioche; French, Fresh, Friendly! When someone hears it, not much imagination is needed to feel the smell, taste, and texture right away. This is what we wanted for La Brioche's advertising plan; to make it a reminder of fresh, authentic French pastry in the best way possible.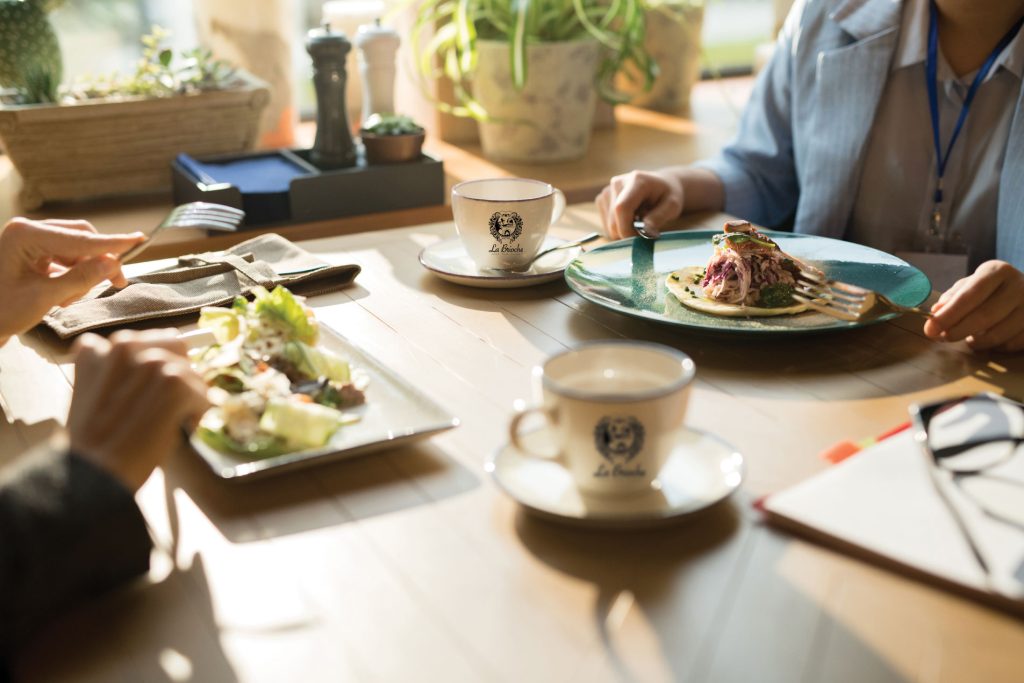 How La Brioche Pastry Found Success with a Brand Redesign in Iran?
In addition to redesigning the brand identity, we decided to expand the horizon and bring all the brand elements under a unified flag that assures all is Integrated into our branding. We designed a brand identity guideline or a recipe book that contains all the ingredients for the UAE locals to mix as needed. We focused on originality and found a way to showcase the logo and slogan on every item used in the store, on packages, and on different pastry features. What we aimed for was to develop brand elements to deliver a feeling of deep French at every touchpoint. This way, we successfully created the perfect image that compliments the French-taste bread of La Brioche.
Redesigning brand identity needs a brand story and philosophy. Sometimes it requires targeting a new market as well. Our marketing and advertising activities for La Brioche consist of a brand identity guideline booklet, logo, slogan, and packaging. By adding these media and services, we were able to help rebirth La Brioche and change the image of this business. We also were able to deliver a clear and encouraging message that resonates with the new brand identity. Our integrated communications system allowed La Brioche to precisely target the UAE French pastry lovers, which is why we consider this project a total success.
For most businesses operating without a solid and direct marketing campaign results in ineffective plans, reduced ROI, and unexpected costs. Go through our works and see how masterly they are managed. Our services can be customized based on your status quo. Let us design a marketing plan that helps you align your marketing objectives and activities with your overall business goals. If you are ready to create a professional marketing plan, contact us to bring your entire team together on the same page.