Luxury branding is never easy. You are targeting a highly specific audience, asking them to make a significant investment into something that might not be considered a necessity. That means you cannot focus only on product features.
Well, once again, Zigma8 was lucky enough to ace another branding effort as lately, we were featured for the best luxury branding on Design Rush. Now, in this post, we are going to let you know how we made the best out of this project.
Design Rush Included Nafeese Alavee Project in the Best Luxury Branding Collection
Design Rush is a B2B marketplace that works to find the best design agencies worldwide and help them get the project listed and receive proposals from verified agencies globally.
In one of its latest articles, Nafeese Alavee's branding project by Zigma8 agency was listed among the 11 best luxury branding examples.
The article offers the stand-out features of this project, such as the abstract logo depiction, and rich colorways.
Nafeese Alavee is an Iranian jewelry designer. She has the art of an incredible artist and the mind of an intelligent designer. When she wanted to put her art out there for people to fall in love with it, Zigma8 was the one for her. We added some personal touches to her signature and blended the outcome with the factors like culture, exoticness, and luxury in order to give her what her art deserved. This is proven by the fact that Zigma8 efforts led this project to gain extraordinary international attention and win the Best Brand Packaging prize in the Content Marketing and Creators Awards category of CMCA 2021.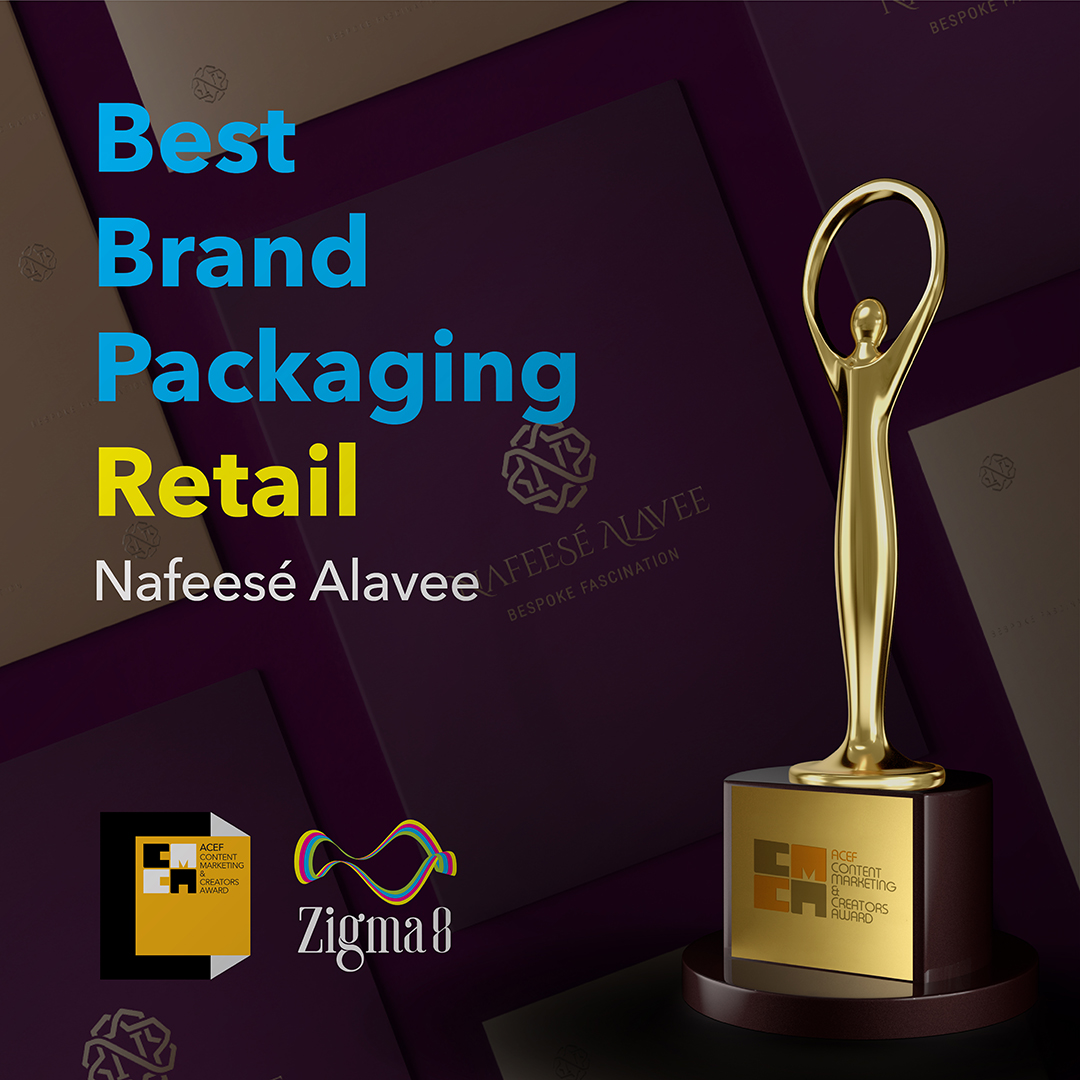 Logo Design in Dubai for a Luxury Jewelry Brand
Nafeese Alavee's pieces of jewelry are the face outwardly luxurious, reflecting the Italian background flavored with heart-melting Middle Eastern magic. That is why we labeled the project "luxury branding." Since this subtle and seductive charm was not seen in any packaging, presentation, and communication process, Zigma8 went as far as to create everything from scratch by developing the brand's logo.
It was the best choice for a luxury jewelry brand to be centered around its name. We combined the designer's name as a logotype combined with the unique characteristics. Oriental beams, earthy love, attention, fascination, and beauty gave us a solid identity for her brand. Our designers try to manifest the soul of her artistry and magnetic mind and captivate the audience's desire at first glance. At last, we had a charismatic, luxurious feminine beauty shining on top of the business.
Designing Brand Identity in Dubai for a Luxury Brand
We focused on extrapolating the soul of NA's style by offering its innate allure. Therefore, we created the brand identity for Dubai by weaving the ancient abstract depiction of the sun and the reflection of the tombs of Persian kings. What we wanted were grandeur and charm.
Emotionally involving the customers is the first rule of advertising a luxury jewelry brand. Buying jewelry is an emotional act, and this is why we empower the brand with the perfect words to evoke emotion and desire. We built a compelling tagline of "Bespoke Fascination." This was further enriched by a warm color palette containing purple and gold, which are the real representation of royalty.
With all these powerful tools, we were able to finally deliver a successful marketing campaign and a world-class advertising campaign in Dubai to make everyone fall madly in love with NA's refreshing art. As a matter of fact, our exclusive branding allows her to find her value and aim for a higher level of luxury.
It is not a mystery that any item can be classified ad luxury, and unique branding is what makes a brand successful. Luxury branding tries to distinguish a product in the marketplace and shape the target audience's perception. Once the "it" factor is found, you need to leverage it correctly to enhance a branding luxury strategy and maximize long-term business success. This is where Zigma8 can do the work and make you the authority in your industry. Let us guide you on the path to success. Hit us up for more.