Key Visual is a combination of graphic features that will convey the essence of a product, narrate its story, and show its unique characteristics. In advertising campaigns, Key Visual is used to reference a single product, a brand identity, or a media release. It sets the most important ideas and items as core components of following ads and designs. Its purpose is to build a relationship with the consumers and create a set of emotional associations that they can easily relate to.
Today's post will elaborate on one of our amazing Key Visual designs in Iran established and implemented for Moringa EMO's health and beauty brand. Throughout this advertising campaign in Iran, we created a unique story to help consumers understand a new local brand offering enhanced brand attitudes, purchase intentions, higher consumer trust, and loyalty levels. All our effort has led this design to be featured in the World Brand Design Excellence Award 2021 along with winning the Best Video Content award (Gold) in ACEF Content Marketing and Creators Awards (CMCA) 2021. Keep reading if you want to know why and how.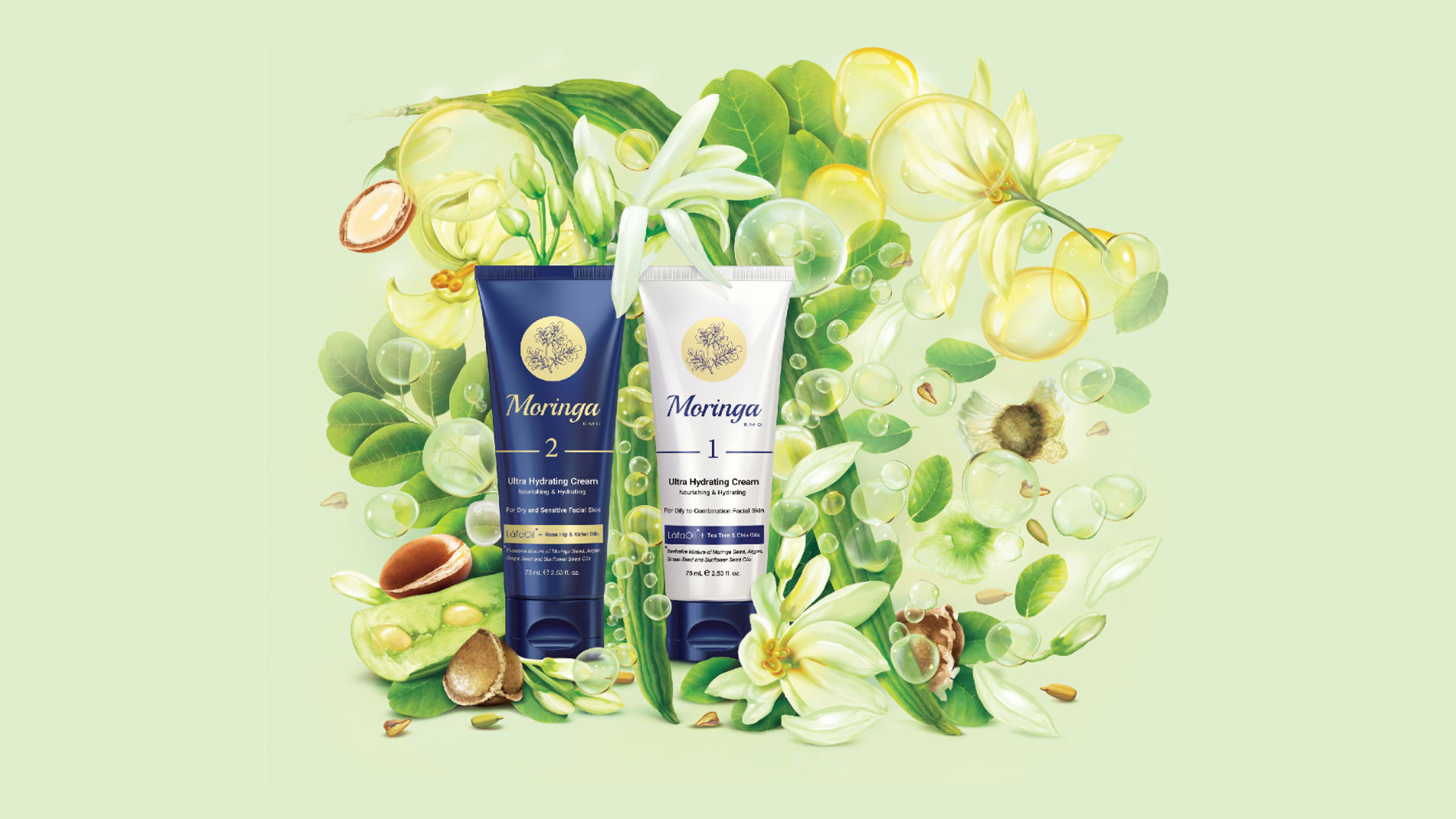 Let's start with a brief description of Moringa EMO. The PergasTeb company, known for popular French brand La Farrer decided to manufacture and distribute a new line of oil-based products in Iran's market. Although there was a demand for locally manufactured natural products in the market, gaining consumer trust and increasing sentiment toward Iranian-made beauty products seemed like a challenging thing to achieve.
To overcome this challenge successfully, Zigm8, the multi-award-winning advertising agency, started with a strategic solution, introducing a new name borrowed from the products' main ingredients. It might seem all planned, but there are always plenty of details to be covered. First, we had to develop a solution to follow the national restrictions on visual and verbal communication for advertising in Iran, especially when it comes to advertising health and beauty products. To that extent, we were not allowed to show women's natural body shape and skin, and some descriptive/provoking words could not be used in adverts as well. So, what did we do?
How to Design a Key Visual for an Advertising Campaign in Iran?
When trying to establish visual elements to convey the image of a product or brand, it is necessary to highlight the main features of its identity. It is essential to have a clear list of core values, the differentiator element, the target audience, expected emotion, and finally, the vibes around the product. Advertising will not sell only a product but a whole set of fantasies and feelings related to what a product might offer.
Once the positive association we wanted to trigger was defined, our design team started designing for the key visual. There are different strategies for arousing emotions through visual elements such as perception, layout composition, and psychological choices. Color is also a significant part of the deal as it exists in the background, focus elements, illustrations, photographs, and fonts. The color scheme can transmit a message without words, and in our creative advertising plan in Iran, we rely on that superpower in particular. In addition to these, composing the image is another critical element. We wanted to obtain a balanced composition to inspire a sense of harmony and pull the audience's eyes to a focus point. We also wanted the viewers to find the message through association and symbolism.
To avoid the mentioned issues, we opt for the natural essence of the brand and decide to work with its ingredients. Since the Moringa Oleifera tree and its oil were unknown to consumers, our designers wanted to make the magic tree more understandable as a natural beauty and health symbol. These ingredients were far from beautiful in reality, so the Zigma8 brand design agency in Iran decided to beautify all the detailed components of the products with the help of artistic images and combine it with inspiring and relatable words to embody the true nature of Moringa EMO products. Our final Illustration Graphic consists of the Moringa plant and seeds introduced as the nature-based source combined with an exquisite and subtle touch of white Orchid to create delicacy and luxury. Lastly, the oil bubbles were added to be associated with the oil-based structure of the products. Our final sketch became more tangible as it was empowered by visionary poetical words to evoke the feeling of beauty rising from nature which was in complete harmony with the brand's message.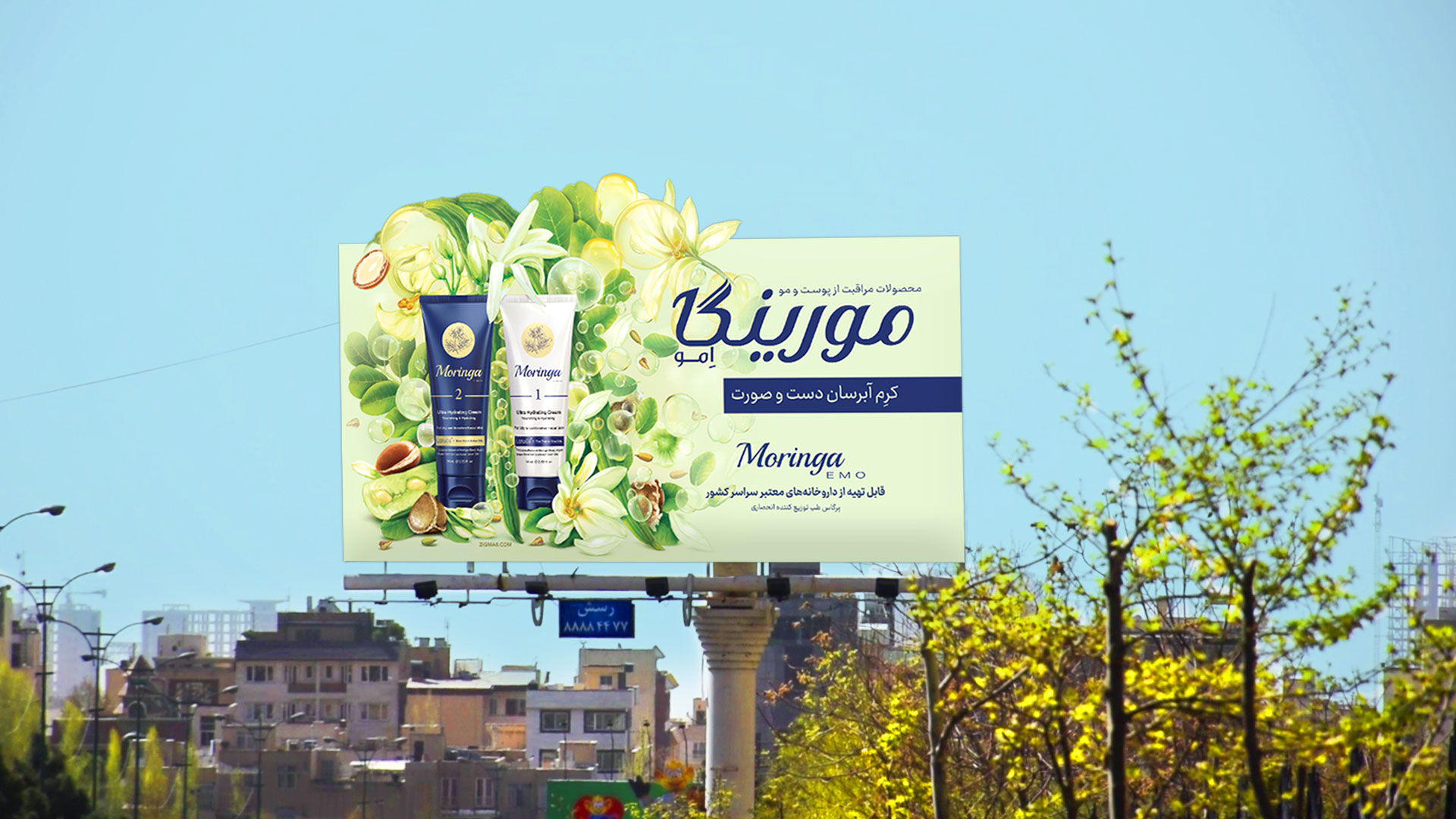 The Key Visual Design for Moringa EMO Advertising Campaign in Iran Was Featured in the World Brand Design Awards
Zigma8's seductive illustrations and harmony for Moringa EMO Key Visual design promoted this health and beauty brand, as the consumers warmly welcomed the new products. Now, besides the great results, recently, we have been honored to be listed and celebrated with the Word Brand Design Excellence Award in November 2021. The World Brand Design Society is a professional community that benchmarks and awards creatives and creative businesses in the different corporate and consumer brand design fields. Zigma8's Key Visual Illustration Graphic for Moringa EMO featured the WBD Excellence award for the healthcare industry and Illustration category. The project was admired and voted as Excellent in three sections: Relevance, Implementation, and Presentation.
Moringa EMO Brand Launch Video Won the Gold Award in the ACEF Content Marketing and Creators Awards (CMCA) – 2021
ACEF program was established in 2012 focusing on Customer Engagement Activities, Branding, Marketing, CSR, Rural Marketing, HR planned in India, Sri Lanka, GCC continent, and Asia Pacific regions. The mission is to help professional teams in various sections of audience engagement offering a better picture of where each industry is headed. It celebrates brands that know customers and can engage them in creative ways.
Moringa EMO video production project received international endorsement by winning gold award at the video content category and FMCG sub-category of the ACEF content marketing & creators awards 2021. We directly targeted the brand's core values using strong imagery with a clear message, to double down the products' unique characteristics in the eyes of the consumers. We are not one for bragging, but the Zigma8 marketing and branding agency is the number one choice for winning the market and audiences' attention. We will give you solid tools and strategies to build and progress your business. You can go through our Works and Services and find out why you need us ASAP.