Brochures that are based on accurate marketing methods, help companies market products and services. They are single or multi-fold paper-based documents and come in various shapes and sizes. They are considered one of the oldest tricks in the marketing playbook. Although digital strategies dominate modern marketing and advertising trends, traditional techniques like brochures are still set as physical media is more memorable, persuasive, and more likely to drive behavior.
Brochures are a fantastic choice for expressing more about a business. Whether a company is looking to offer more detailed information about the services, use it as a menu, or simply make a connection with customers or investors, a brochure gives them the perfect space to tell their story. Brochures are powerful tools for engaging and educating an audience.
Now, when it comes to brochures, it is all about design. A comprehensive and practical design will compel audiences to read and review all about the business. So, how exactly do uniquely designed brochures bring you success? This is about one of Zigma8's incredible brochure designs in Iran that drove results and made a lasting impact on the target audience.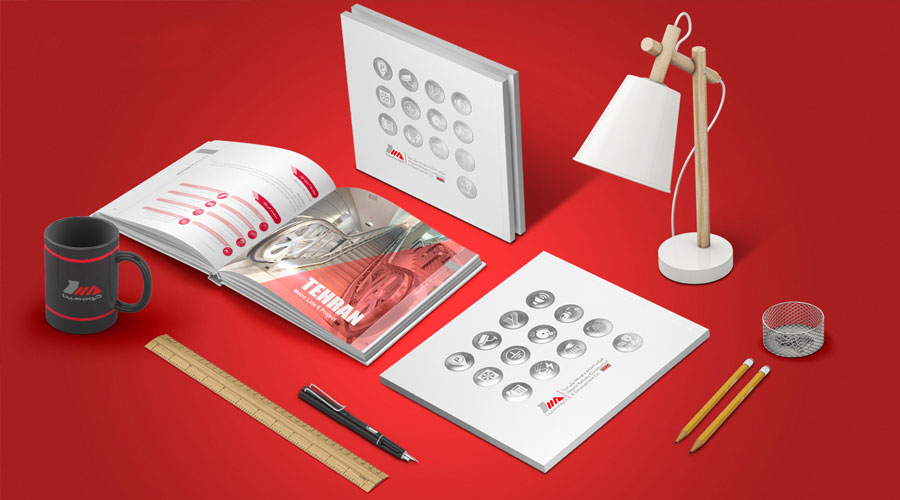 Designing Brand Identity and Sales Brochure in Iran
MAPNA Rail Construction and Development Company executes a variety of rail projects from scratch with the strategic cooperation of international companies. MRC services cover a vast range from spare parts supply and engineering activities to repair operation and maintenance. The subsidiary of one of Iran's top 12 stock exchange-listed businesses offers construction, commissioning, and development of metro, monorail, and light urban trains together with railway electrification.
They contacted us to deliver and design tools and solutions that help them explain and introduce their wide-ranging services and products in simple words with the idea of going big to target a new market and increase subsequent sales. A thorough brochure would have covered everything they had in mind in such a business. But what mattered was how to design a brochure that looks and feels impressive and builds a real connection with potential audiences.
Zigma8's brochure design in Iran started with a clear understanding of the brand personality, message, and target customer to make the design process smoother. Our branding team kept the brand identity front of mind throughout the whole process. The look and feel of the brand in the brochure must be consistent with the overall branding. We selected the colors, images, fonts, tone, and brochure content that matched the brand personality.
Once all there were covered, our designers worked tirelessly to create precise, exclusive, and complete visual and verbal elements. Inspired by the related visual language and familiar design of Tehran's Metro Map, we agreed to build a pamphlet type of brochure to explain the company, introduce the offers, and list the previous projects.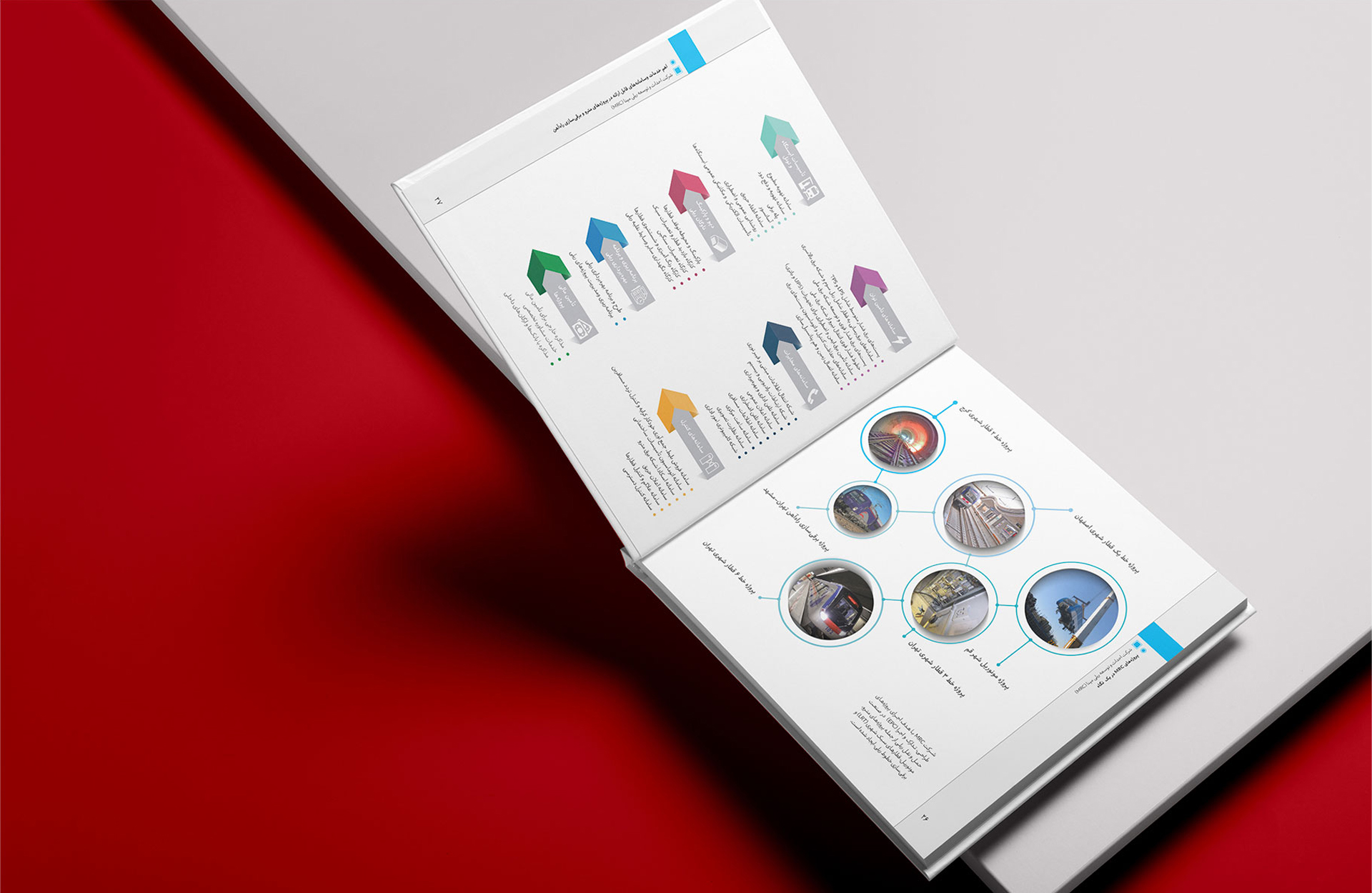 A fold-out table of content was designed to guide viewers through the different sections of the brochure. Each section was addressed with bespoke iconography (+50 items) exclusively designed by our expert designers to maximize legibility and win the target audience's attention. We hit the next level of perfection by traveling to various locations of the brand's projects around Iran and photographed the necessary scenes to create a sense of reliability. Beautiful stock imagery was also added to the brochures.
The new coherent brochure for the MAPNA contained all the necessary detail and information about the products, services, and projects in order to educate and attract customers. It cannot be denied that a brochure is only as good as the content inside of it. People won't feel compelled to work with a business or seek them out if they don't give enough reason.
We completed the compelling brochure by providing contact information to make it as easy as possible for potential customers to reach out to them. There were also effective calls to action to help people decide and do preferred actions. We tried to make the brochure readable using easy-to-see fonts and big print sizes. We put the most important information, date, and time of the projects as well as keeping it short, to the point, and practical.
Since Zigma8's primary goal is to make a business special, we decided to add a desirable detail to our brochure design in Iran. To drive interest and become more appealing to the client's environmental concerns, we chose to change the paper stock. Therefore, we opted for a more environmentally friendly stone-based paper stock rather than the wood-based one. This was an unfamiliar and unique method in Iran that we decided to implement for our clients as Zigma8 is all about being a pioneer in the field.
Consequently, our branding plan in Iran was finally ready to be out there. We created and designed a stunning 86-page, soft-cover brochure using special inks. Besides the prosperous and powerful implementation of ideas, we pride ourselves on the thank you note from the MAPNA Railways Construction & Development Company offering their gratitude about the sales brochure, which was qualified by masterful imagery and skillful manner that became appealing to both mind and heart.
Brochure Design that Gets Results
It can be thrilling when you see your brochure come to life in print. But the real rewards come when it is put to work correctly. You must know that your brochure is one of your proudest and most versatile marketing materials. How you design and write your brochure can make the difference between getting your target audience to read it or ending up in a pile of forgotten brochures. That is why you need us. Check out our Works and Services to learn all about your needs and expectations. Let us know how we can help you increase your brand awareness.