Marketing and advertising are the essential approaches of any industry, and the automotive businesses are no exceptions. As the customer's world is constantly changing toward becoming fully online experiences, the world of marketing and advertising is being revolutionized, and every upbeat company will try to keep up.

Now when a business wants to enter a new market, a good marketing and advertising campaign help reach out to the target audiences and bring new buyers by localizing the products/services and highlighting values. Not only does it bring their attention to the newly released brand, but if done correctly and strategically, it can also make them want to learn more about the brand. This is what Zigma8 did for BAIC.

The BAIC or Beijing Automotive Industry Holding Co. is a Chinese state-owned enterprise holding company of various automobile and machine manufacturers located in Beijing, China. BAIC subsidiaries include Beijing Motor, BAW, Foton Motor, and Hyundai/Mercedes-branded cars for joint ventures.

At the time, the company decided to produce about 100,000 vehicles through its recent Iranian venture, and this was when they needed us the most. The BAIC group needed a smart way to enter the Iranian market and win the attention of the local buyers. This was only possible with the help of Zigma8's branding and advertising expertise. As a matter of fact, our branding and advertising solutions in Iran derived demand for BAIC both in Iran and beyond borders. Let's learn how!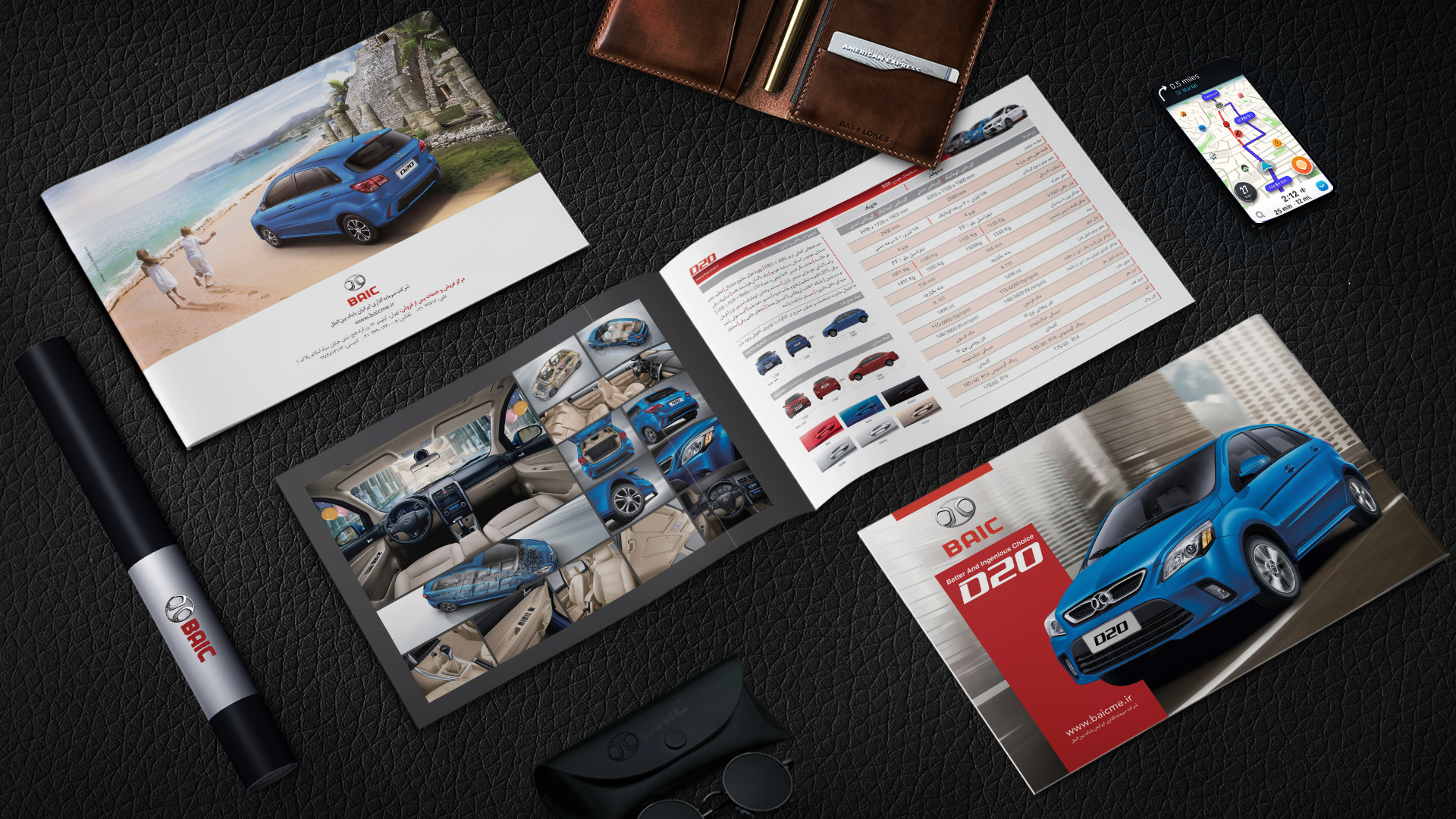 Marketing in Iran for an International Automotive Brand

BAIC is ranked as the fifth or fourth-largest Chinese automaker, and to help it enter Iran's market, we decided to create a branding and design solution for BAIC to join the local market smoothly.

Although more than 95% of car sales today are made at the dealership, search is still the first place people begin their buyer's journey. Therefore to market, an automotive brand, online advertising, and digital marketing are key to bringing leads into dealerships.

It is a fact that the biggest challenge for automotive marketers is to gain the trust of their leads. And in a competitive industry where consumers make significant financial decisions that will affect their everyday lives, turning leads into sales is not that easy.

Zigma8 planned a branding and marketing strategy in Iran for BAIC by which they could attract the buyers or influence them to buy the products. We conducted thorough research about BAIC's marketing value proposition, objectives, information on the target customers, and other high elements, and the result was an overall long-term game plan to follow.

With significant branding expertise, we designed the essential brand elements to cater to local tastes and requirements. Besides adopting the Latin logotype, we created a localized Persian logotype for BAIC to make a unique way to enter the heart and minds of Iranian audiences.
Brochure Design and Print Production in Iran

Zigma8 branding agency based in Iran designed and produced BAIC's sales materials along with translating the details and description matched with the artworks of the brochures. We designed an informative catalogue for the products explaining every part of the vehicles, features, values, and any other points that needed to be highlighted for buyers to make the right decision.

Web Development and Design in Iran to Localization International Automotive Brand

Brand design and development is much more to Zigma8 than creating a one-off logotype or brochures based on the company name or logomark symbolizing the actual industry. To create a successful brand consistent presentation across all digital and offline mediums is imperative as people will form an emotional connection with the brand over time.

In addition to all the print materials, we followed a precise path in production and helped BAIC in achieving all-important high-quality results by developing a localized website to host the adapted brand materials. Since we wanted a web development in Iran to build products, wow users, and grow the BAIC group, we created a fully optimized website that was fast, dynamic, and easy to use. Through this channel and designing a profitable conversion funnel, we were able to gain inbound traffic from search engines.

Marketing in Iran a Car Manufacturer with a Compelling Branding Solution

Our efforts at Zigma8 | 360° creative communications were to build trust with customers, be at the top of Search Engine Results Pages (SERP), adapt to the local car-buying trends, target the right people, compel potential buyers to come into showrooms, and use all the possible call features. Consequently, we were able to successfully market the brand and help drive sales beyond BAIC's expectations. Our uniquely customized brand solution in Iran led BAIC to exceed expectations for its two-year sales. They brought three vehicles to the Iranian market, and we strengthened the brand to achieve a combined sale of over 20,000. Our comprehensive, smartly designed branding in Iran not only boosts the potential sales but also will lead to an increase in the number of potential customers that know about the brand and value, which is a path to grow greater future sales.

Automotive branding and marketing are following the same trends, especially in advertising. But now that customers are adapting to the change of technology and developing a new user experience, it is about time that this industry uses some new and fresh ideas to win people's hearts. Zigma8 can help you with multiple ways to reach customers, seamless messaging, and branding/design solutions with automotive expertise. Check our Works to see how we help brands accelerate building real experiences with a particular content layer that delivers sales and revenue. Our Services will prescribe solutions that work exceptionally.