Implementing a brand design in Iran for a Multi Brand Business
Brand architecture is the core relationship between brands within an organization and how they interact with one another. When an organization grows and appeals to different audiences through different product lines or acquisitions, brand architecture is the key system that ensures each type of product and company is intuitively linked with the right audience as a comprehensive united whole.
Brand identity contains a name, a personality, a voice, and a life all its own. The perfect architecture plan has the strength to future-proof a business, saving ancillary time and budgetary investments through its strategic foresight.
For all these, it is necessary to choose a brand architecture that will work best for a unique brand family. But selecting the right path for this starts with total confusion. We met the Sepehr Monavar Group right at this point when they decided to establish a marketing strategy and brand architecture to align various sub-brands allowing maximum market-share in each segment. Making sense of this confusion is one of our specialties, and we took the responsibility to help this organization with marketing activities in Iran. 
Brand Architecture: The First Step of Marketing Campaign in Iran
Sepehr Monavar Group is a well-known manufacturer of lighting products representing many international brands such as Osram, BLV (both German), Opple (Chinese-European), and its very own high-end local brand EDC in Iran for many years. Since the organization grew and increased its product lines, they decided to introduce themselves as the master-brand, supporting the sub-brands in a unified system.
We at Zigma8 advertising agency started the marketing campaign in Iran for Sepehr Monavar Group by diving deep inside the business, analyzing all brands, sub-brands, products, services, functions, varied identities, specific offerings, and target audiences. Consequently, we designed a coherent, integrated communication package to promote the brand and light up the company's value with a cohesive identity.
Creating a Comprehensive Brand Identity for Marketing in Iran
While designing a brand identity in Iran, we are basically building a toolbox of visual elements to help a brand communicate effectively. SMC needed a strong identity which started with us designing its logo. For that, we went for the brand's specific features; the brand's initial letter, "S," and the electric lightning symbol. Combining these two elements allowed our designers to create a logo that elaborates on the essence of the organization by representing the light, speed, and levels of energy as it was mixed with the name of the company, Sepehr Monavar Co., both in English and Persian language.
Zigma8 attempted to create a roadmap for brand identity, development, and design to help increase flexibility for product or service expansion. From the messaging and communications standpoints, we created an organized brand architecture to help SMC reach its target market for each product and service it offers. Our integrated marketing plan included stationery suite, logo design, Persian language logotype design, TVC production, event management, Persian type-set, social media templates (Telegram Messenger and Instagram), and Persian language website SEO.
Event Management as a Part of Marketing Campaign in Iran
Once we equipped the company with the necessary communication tools, we decided to move forward and promote some of the company's desired touchpoints widely. According to an upcoming trade exhibition, Zigma8 aimed to reveal these changes to the public. This event design started with a memorable slogan; a smile lights up the room, followed by the group slogan; lights' n' smiles guaranteed. Zigma8 created a show by preparing a multitude of short commercial videos to be used not only during the exhibition but also in many different places afterward. The selected theme for the exhibition was taken from "innovative technologies," so we implemented our creativity in the group's stationery and gift items; a QR code links to branded items and tools. The exhibition was a total success as we successfully portrayed a perfectly integrated BTL marketing activities and advertising campaign by offering thorough event management, including branded tools, stands, content, product videos, TVC production, station materials, and visual guidelines.
Marketing Material Design and Production
Moreover, Sepehr Monavar Group was the Gold Sponsor of the 2nd Iran international Lightning Design Conference Exhibition, and Zigma8 was in charge of the designing and building every single part of the sponsorship, including design construction of the booth, management of the side workshops, gifts, brochures, TVC production in Iran, etc., which was possible within 24/7 teamwork for almost 15 days. We at Zigma8 armed the company with the best equipment to give the members a chance to experience the business in a new way, building a stronger partnership with the vendors and suppliers and generating additional revenue.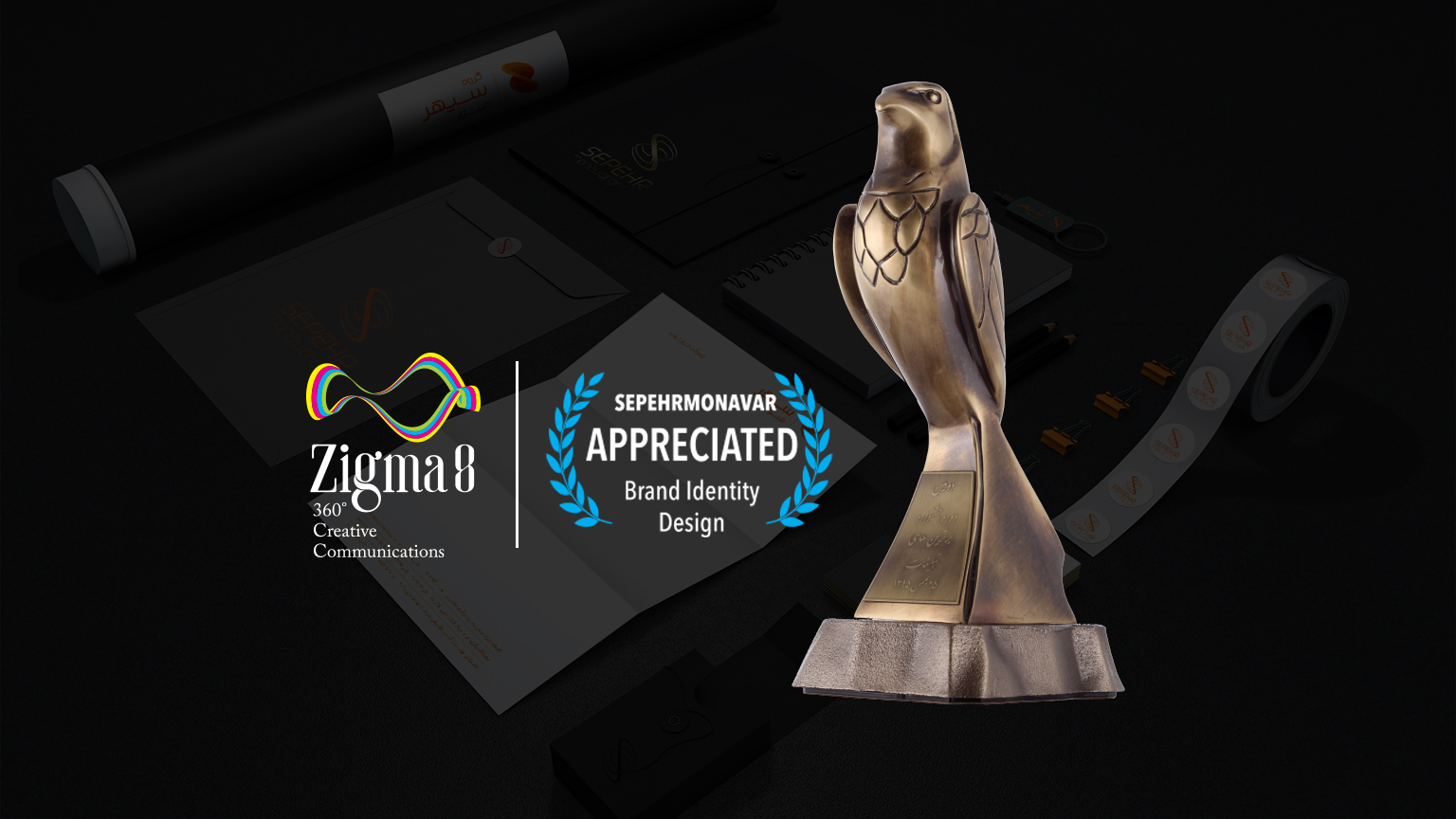 Zigma8 | 360° Creative Communications helped this business create a 360° advertising campaign in Iran based on their specific objectives and nuances. We based the marketing plan on understanding how the audiences perceive this business, focusing on the organization's trajectory. Above all, we considered the competitive landscape evaluation, identifying the brand differentiators against industry and how best to position it to thrive. Our efforts are based on this rule; the stronger your brand architecture, the more it can endure. For that, it was such an honor that our project with Sepehr Monavar Group was awarded second prize for Brand Identity Design in the Iranian National Advertising Festival 2017.
If you find yourself with structural problems related to brand architecture, diluted identities, confusing efforts, and sub-brands disorganization, you need to think of a direct marketing and advertising plan as a necessary solution for prompt clarity. A brand needs structure to maintain its integrity and a brand family needs brand structure to keep its house poised for an ideal future. As a multi-award-winning creative marketing agency in Iran, Zigma8 is focused on simplicity and directness, and our strategy will help you uncover the unique greatness of your brand identity and this way, we consult you on how to leverage the opportunities within your organization. You can explore the details of our successful marketing and advertising projects and check out our latest works to find services that fit your current status. Contact us and let us help you with our informed process to unify your brand family with a solid strategic direction and strengthen it as a plan to succeed.