Since the 1979 revolution, the Global advertisers have witnessed a hard time in Iran, but still the advertising scene of Iran never really slowed down. Now with the economic sanctions gone, many agencies have managed to attract international attention and brands. One such advertising agency, which has not only defied all boundaries but has managed to become the first and only affiliate member of the American Association of Advertising Agencies (4A's) is Zigma8 | 360º Creative Communications. Dr. Damoon Mir, the Genius behind this agency, gets all the credit for making it possible to bag this membership.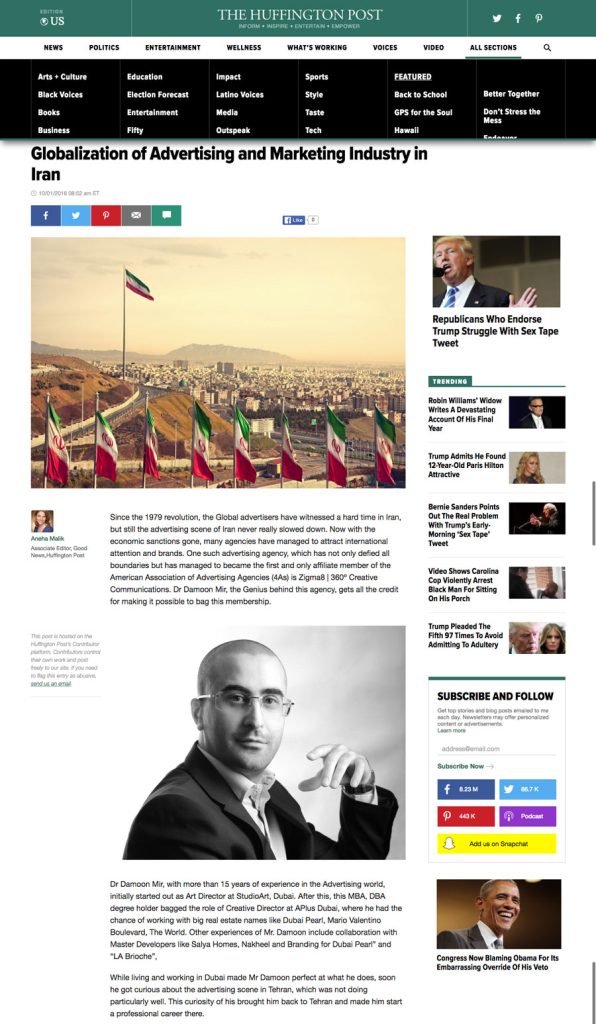 Dr. Damoon Mir, with more than 15 years of experience in the Advertising world, initially started out as Art Director at StudioArt, Dubai. After this, this MBA, DBA degree holder bagged the role of Creative Director at APlus Dubai, where he had the chance of working with big real estate names like Dubai Pearl, Mario Valentino Boulevard, The World. Other experiences of Mr. Damoon include collaboration with Master Developers like Salya Homes, Nakheel and Branding for Dubai Pearl" and "LA Brioche".
While living and working in Dubai made Mr. Damoon perfect at what he does, soon he got curious about the advertising scene in Tehran, which was not doing particularly well. This curiosity of his brought him back to Tehran and made him start a professional career there.

Later, With his undue faith in the Iranian markets, keen observations of the Advertising Industry scenario, and rich experiences as a Creative Director & strategic branding expert, Mr. Damoon was able to start the successful, Zigma8. Over the years, Zigma8 has worked with several big prestigious names and has, no doubt, uplifted the advertising, marketing, and branding standards of the Iranian Advertising Industry. He was able to give the Iranian Markets what they had been lacking; Creativity with which people everywhere could resonate with.

Despite the cultural complexities and the legal limitations of the Government, Zigma8 flourished and managed to introduce a new standard and scale of work in the Iranian Markets. The thing that makes Zigma8 stand out from the rest of the crowd is the incorporation of an international perspective in their projects and the fact that the creativity in Zigma8 is brought from all over the world. With Zigma8 as an affiliate member of the 4A's, the Iranian market can expect a new genre of work and content, as the 4A's offer rich sources of data to its Affiliates.
Despite the regression faced by Iran in the previous decade, Agencies like Zigma8 exist which have kept the Iranian Advertising Sector strong. As per Zigma8, Mr. Damoon and his agency with the 4A's membership have introduced the industry with a new route of investment from international brands.