Do you agree that trust can be replaced with blockchain technology? Well, this emerging phenomenon known as cryptocurrencies is digital assets that provide and offer new ways to transfer value without a traditional intermediary like banks. Although they have become increasingly prevalent since the introduction in 2009 of the first of their kind, Bitcoin, the concerns around their concept have been widely publicized.
Today, we know for sure that blockchain technology is inherently secure based on its decentralized public nature and accepted transaction process. But who's to say that every investment is genuinely safe?
When a new cryptocurrency or coin is about to enter the market, trust matters the most. It can not be accepted and purchased if it cannot gain a significant level of trust in people's minds. Building trust in the digital world does not happen overnight. It requires consistent messaging, delivering promises, and identifying the market and buyer personas. We experienced this in one of our most successful brand designs in Iran for ECOSC's new cryptocurrency And this is how Zigma8 implemented an incredible branding strategy.
Conducting a Marketing Research as a Part of a Branding Solution in Iran
Basically, our branding experts at Zigma8 start a project by researching and gathering reliable data and information about the client, market, audiences, current brand situation, and expectations.
ECOSC cryptocurrency was built and designed to offer a new payment system and digital money for gas and oil trading. We found this as the most important differentiator of the brand, a feature that we could build the brand identity upon. The company's goal was to create a secure supply chain for the business, and ECOSC was the first cryptocurrency that its issue powers with solid support. It would allow buyers and suppliers to communicate and exchange documents for shipping, purchasing, and financial payment easily and safely.
Our thorough understanding of the brand and its nature led us to offer a perfect branding strategy in Iran to the management team, which wanted us to empower them with a progressive and trustworthy path.
Through our years of experience with respectful and popular brands of different markets, as the pioneer of many advertising and marketing methods in Iran, we came up with a grand idea to blend art and science to create a bridge to target audiences' hearts. We believed that the only way to win the market for ECOSC was to combine diverse skills to gain trust and attention. Entering a competitive industry with the power of trust and truth will allow the ECOSC team to differentiate the brand from the rest and drive business growth.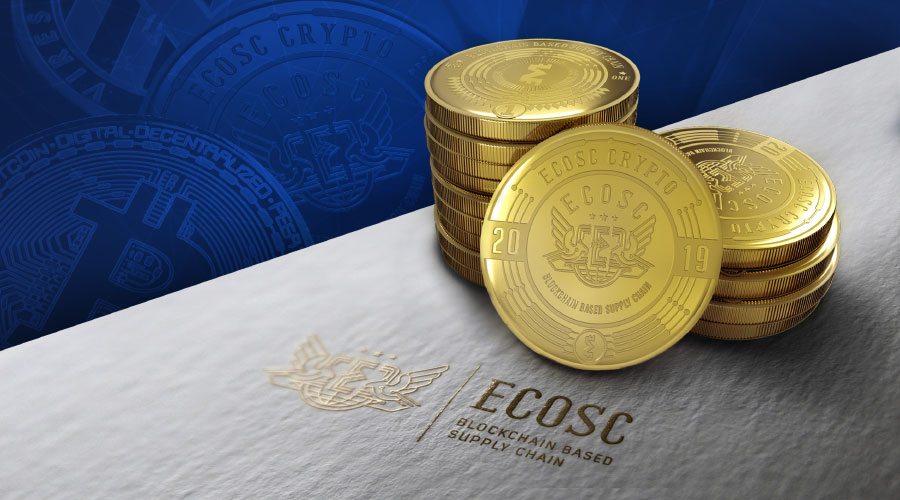 Designing a Cohesive Brand Identity in Iran
Now that we knew everything about the technology twist and go-to-market strategy, it was time to equip the brand with attentive knowledge, effective solutions, and clear language to contact and attract target audiences.
With a detailed evaluation of end-users, representatives, and stakeholders through their familiarity, we began the first step of branding solution in Iran, representing a rich and compelling visual identity focused on the market's iconography and uniqueness in a much more creative and attractive way.
Yes, a logo design must explain who you are, what you do, why you do it, and how you do it, but remember that it is for your audience. As the main symbol of a business, designing a desirable logo is the primary step toward developing a trustworthy brand identity. So, the Zigma8 team of designers created a specific customized logo for the ECOSC cryptocurrency by combining four core elements of the brand. Our final sketch contained a) the letter E to develop a close association with the brand's name, b) the abstract yet artistically expressive eagle icon to portray power, ambition, and sharpness, c) the conceptual world icon to offer widespread dominance and universal popularity, and d) the tech chip icon to express the blockchain technology, transparency, and digital growth. The golden design accompanied the "Blockchain Supply Chain" to introduce the brand simply and memorably.
We also added this design to a digital coin sample to create a sense of reliability and trust. The logo sat in the center, and it was surrounded by a) the name of the coin (ECOSC Crypto), b) the Electronic Chip theme for the overall design placed at the top, c) the year of establishment (2019) in a ribbon symbol placed at the middle part, and d) the symbol of ECOSCurency at the bottom of it.
Surprisingly, the result was beyond what the ECOSC team expected. With this comprehensive brand design in Iran, Zigma8 went beyond multidisciplinary and took an interdisciplinary path to empower a new crypto brand. Once the strategy was implemented, target audiences welcomed the new coin warmly, and it was able to gain trust and win attention in no time. They were able to measure the plan's success from the increase in the user base and the coin value. Consequently, there was a noticeable increase in the coin value (from $0.10 to $1.60). Thanks to this beneficial collaboration, it is evident what the future holds for the ECOSC coin.
To top it off all, you know so far that trust is a byproduct of commitment to quality and excellence, and the touchstone of this successful journey happens with a thoughtful brand identity. If a brand can deliver the right results to the right audiences over the long haul, people will come to believe and trust in the products and services offered day by day.
It is crucial that you nail your brand identity first and then build and create designs that portray who exactly you are to your market, field, and customers. To plan a brand design, go through our Services and successful Works to learn all about what you need to do. Contact us if you want us to be your brand savior.