Football as a mass enthusiasm phenomenon makes people worldwide part of something big, and the same story exists in Iran. Football in all its facets reaches an audience of millions, and that need for passion and belonging predominates in and out of every stadium. Especially in the context of major events such as the Football World Cup, it becomes even more clear.
Months before the 2014 Football World Cup began, Aparat, the so-called "Iran's YouTube," decided to be a part of this universal enthusiasm. Aparat, the Iranian video-sharing service, wanted to use the football fan culture that unites, splits, and provokes for its benefits. Football in Iran means emotion and passion, and this is the basis for lively fan culture and tense atmospheres in the fan buffs and the grandstands of the stadiums. Aparat took the chance to advertise and introduce its streaming services with a digital marketing and out-of-house advertising campaign in Iran planned by Zigma8.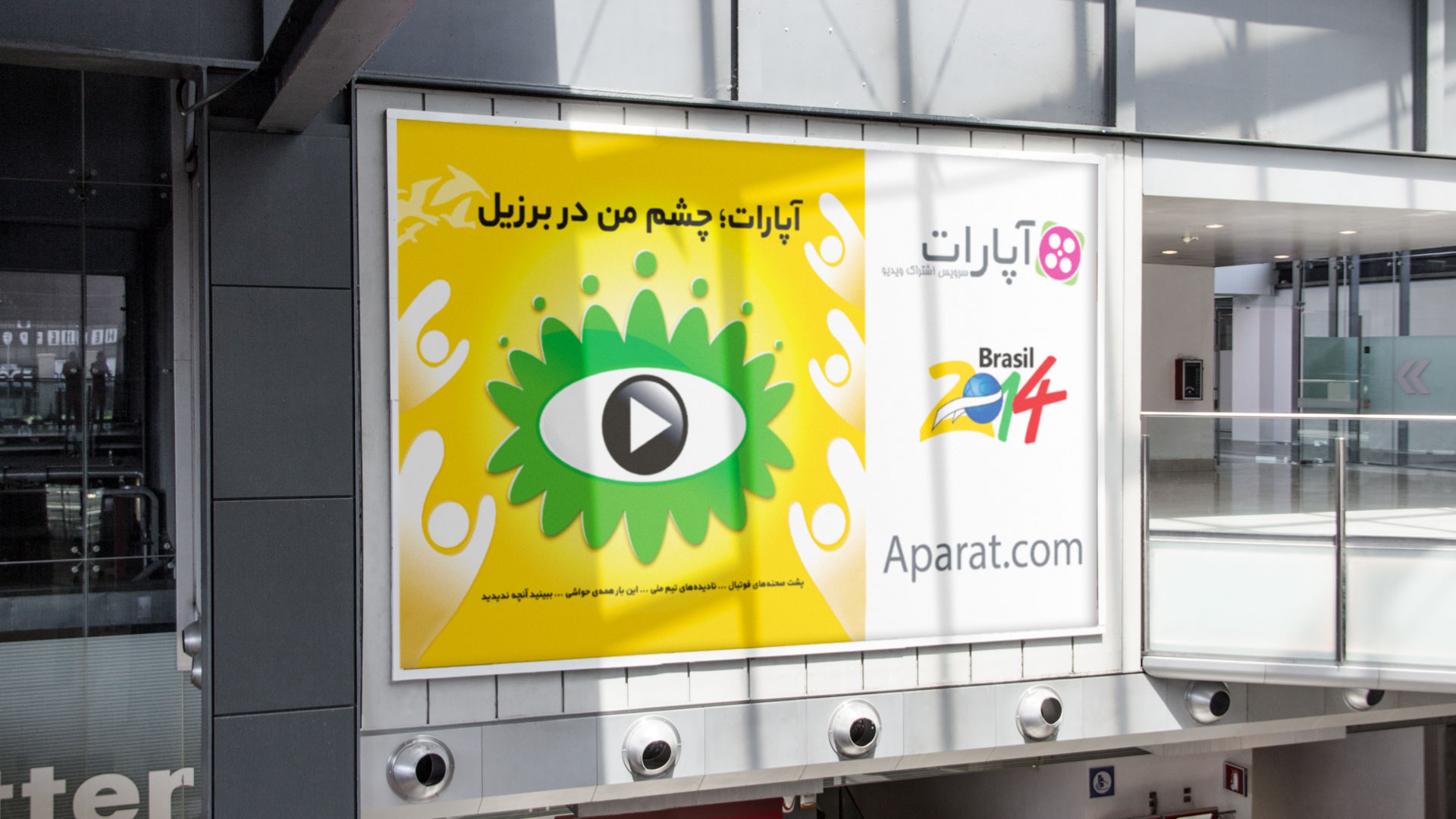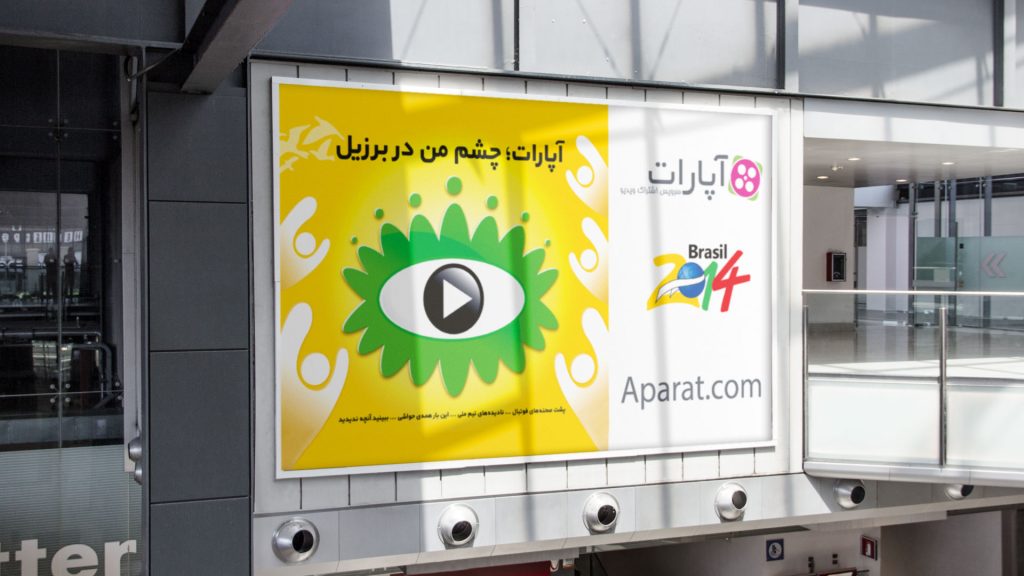 Initiating an Out-of-home Advertising Campaign in Iran
Out-of-home (OOH) advertising can be any advertising viewed by an audience outside of the home environment. Zigma8 considers outdoor advertising in Iran as one of the most effective and far-reaching advertising channels. In recent years, we also blended the traditional OOH with digital out-of-home advertising to further the benefits. Since the event was held in Brazil, we started the Aparat advertising and marketing project in Iran to promote the idea of "Eyes on Brazil." Therefore, we planned a comprehensive and eye-catching out-of-home advertising plan in Iran to empower them, creating an immersive, memorable, and interactive advertising campaign in Iran.
Many sources predicted that the 2014 Football World Cup would become one of the most viewed events. With this in mind, we wanted to surf the waves and use this attraction that football can bring to life for Apart's OOH advertising campaign in Iran. We centered our focus on the additional values Aparat can offer over the conventional channels; the thrill of being involved in every little detail, stories, interviews, incidents, and enjoying behind the scenes were our go-to differentiators. Aparat was ready to put the curtain back, let in more light, and discover what was behind it.
The power of OOH Advertising in Iran
Zigma8 decided to make this fan culture even more special by acting more innovative. At Zigma8 | 360° Creative Communications agency, we invited target audiences to experience a journey to Brazil and see first-handed realities. We started to promote the advertising campaign in Iran using the slogan of "Aparat, My Eyes in Brazil." Once we found our whole campaign concept, we designed an eye-shaped symbol added to Aparat's play button on relevant 2014 Football World Cup illustrations, images, and sketches. 
Publishing this message allowed Aparat to be placed as a medium that will manifest the truth around the 2014 Football World Cup, including stories and scandals that only someone who traveled to Brazil would have known and heard. Aparat would show the abundance of first-hand footage that is not available through conventional channels in major cities of Iran, and this way, it will become "your" eyes in Brazil.
It is a proven fact that in important times of the year like the Football World Cup, out-of-home advertising can be a very effective method to drive visibility and footfall directly off the high street and onto a brand's services. By placing the ads in prime locations of different cities, we targeted an increased number of people who were deeply interested in following the news about this event.
The Importance of Billboard Advertising in Iran
Given the flexibility over messaging and control over targeting, we were able to achieve incredible results by implementing billboard advertising and lamppost advertising in major cities of Iran to raise awareness about Aparat's exciting marketing campaign. Luckily, the event has reached an audience of over a billion across the globe. Aparat also accomplished its objectives successfully.
For many businesses, success means maintaining their core local audiences base and finding a way to communicate with them regularly with the right messaging. Zigm8 operates the out-of-home advertising campaign based on purpose-led endeavors because we believe authenticity will earn audiences' trust and help businesses grow.
Our work with Aparat is just one example of the successful data-driven, dynamic out-of-home advertising experience to various brands through our services. Our activities are based on marketing and advertising in both traditional and digital methods. Here at Zigma8, we are passionate about how powerful different channels can be. Check out the Works to enjoy some of our favorite examples of truly impressive projects. We support innovation and can't wait to see how the medium evolves alongside new technology and opportunities for audience engagement.