How to better show beauty when marketing in Iran
We help Moringa bring a different
kind of beauty to an advertising
campaign in Iran

The Iranian health & beauty consumer
Iranian consumers aspire to purchase international health & beauty products, in part due to the assured quality. Recent market shifts have, however, restricted access to these goods. These shifts in consumer knowledge have, in part, led to an increased preference for natural products. Additionally, new technologies have provided increased access to knowledge about ingredients and the process of production. Similarly, consumers have increased exposure to West-leaning, wide-reaching conscientious campaigns by big players such as Dove. This change has altered consumer demand in Iran, which has brought about the availability of more products with natural ingredients. Most notably, products that contain Argon oils subsequently appeared on satellite television adverts and shelves.
A successful Iranian health & beauty manufacturer
The Iranian manufacturer, Pergas Teb, has around 1000 employees and have been active in the health & beauty market for roughly 8-years. The company is better known for the popular health & beauty brand, Lá Farrerr. Pergas Teb is familiar with the market predicaments in Iran but saw an opportunity to cater to the local audience with products containing a natural oil superior to Argon oil.
With our help, the company realised that an innovation story could meet the zeitgeist for natural products while also replacing the consumer story lost due to sanctions. The company agreed that if this new story about beauty could look and feel like an international campaign, it would better succeed.
The challenge of health & beauty brands advertising in Iran
For Pergas Teb to be successful with marketing in Iran, the company would need to appreciate the new market realities. In addition, it would need to effectively communicate to consumers using media, irrespective of the many local restrictions.
National restrictions on visual and verbal communication are part of everyday life for advertisers in Iran. Within the health & beauty category, however, extra sensitivity exists. For example, using human bodies is very complicated, in that natural body shapes cannot be shown. Also, certain words shouldn't be used in advertising copy. For example, Unilever in Iran was not able to use the translation of an international campaign slogan. The translation of "tempt them with your delicious soft skin" was not accepted. This was because the translated words for "tempt", "delicious", "soft" and "skin" were forbidden.
As a result of such restrictions, advertisers in Iran will often resort to using pack shots with direct descriptions or use creative yet occasionally misunderstood metaphors.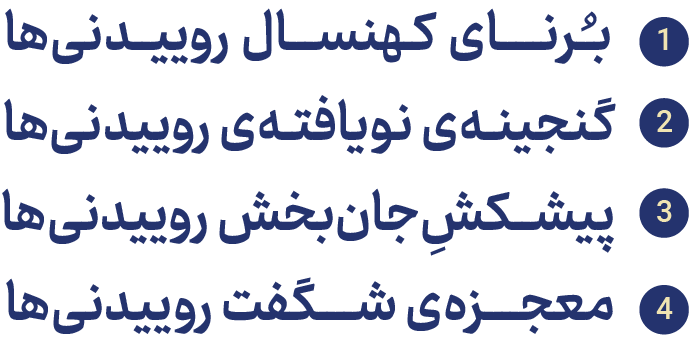 Our communications challenge for marketing in Iran
With these issues, our challenge would be: how do we provide a new story to conscientious women about retaining beauty in a market that struggles to trust local brands?
Introducing an innovative health & beauty brand to Iran
In agreement with Pergas Teb, we made a strategic decision to name the brand Moringa EMO (Exclusive Mixture of Oils). This brand would provide natural health & beauty products containing ingredients from the so-called miracle tree, the Moringa Oleifera tree. The brand name is based on the name of the tree and was chosen, among other reasons, to claim propriety ownership of the differentiating ingredient. Very few manufacturers had used the Moringa oil, and none had claimed it exclusively across their lines. One such example is Cinere, the locally renowned international health & beauty brand. This brand is active in the Iran market and has products containing Moringa oil. Unlike other brands present in the market, it had not embraced the ingredients as a strong product differentiator.
How to show beauty in Iran without showing women
Internationally, images of human bodies often accompany the branding and advertising of health & beauty products. In the Iran market, and as mentioned above, this is not so much the case. Many restrictions apply to what words and images you can use. Communications agencies in Iran try to work around these restrictions in the hope of attracting audiences. They will do this by showing as much as is allowed or by using metaphors. In both cases, the quality of communication is inadvertently affected to the detriment of the communications.
To avoid this detriment in communications, we at Zigma8 Advertising agency in Iran implemented a strategy to double down on the product differentiator. We would achieve this by using the Moringa tree and its oils both in image and explanation. Doing this, however, would inadvertently invite a new challenge. This new challenge was that the Moringa tree and its ingredients were unfamiliar to the audience, both in their looks and description. Familiarity aside, the subsequent challenge would be to present the otherwise unattractive looking Moringa ingredients.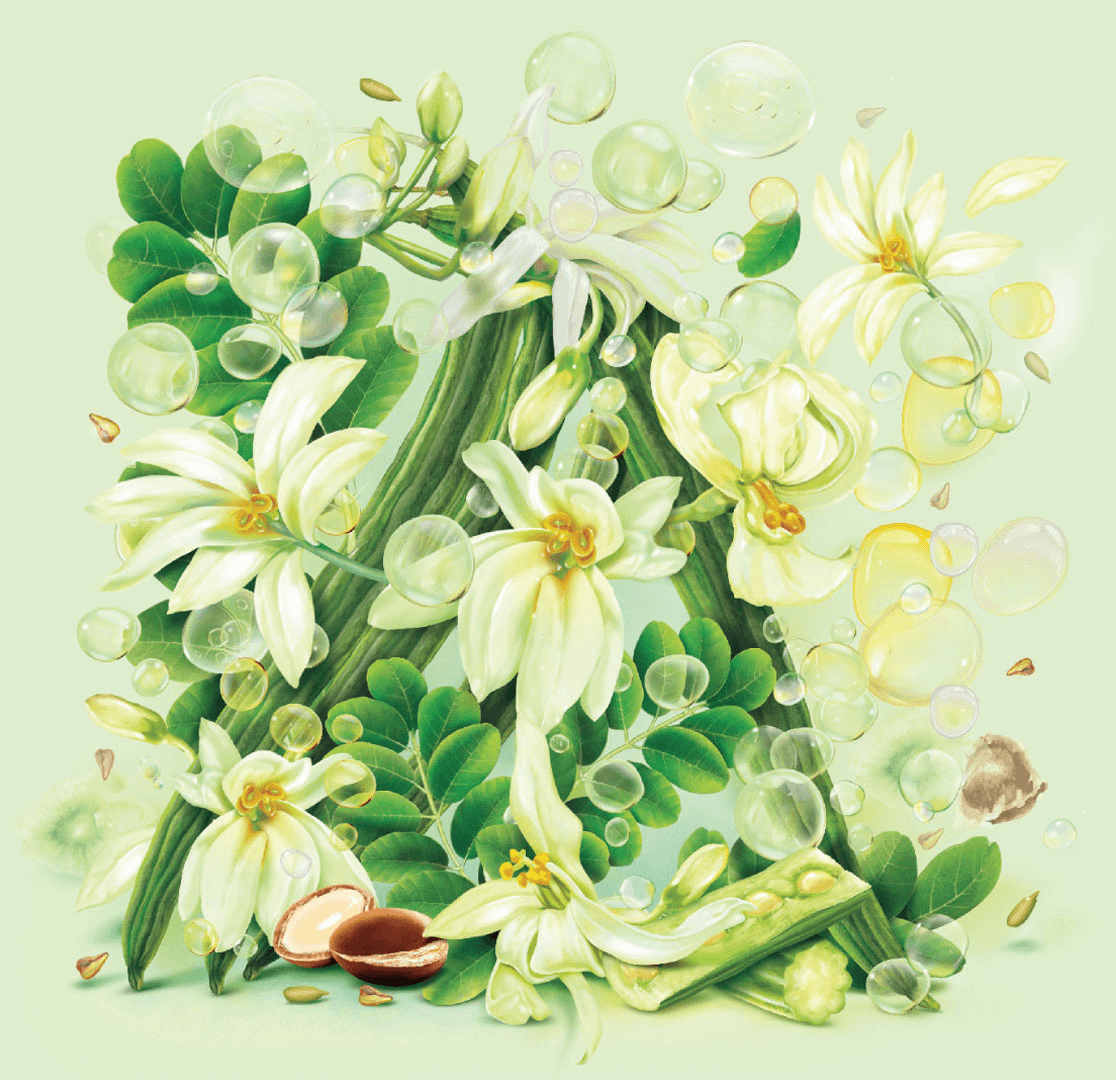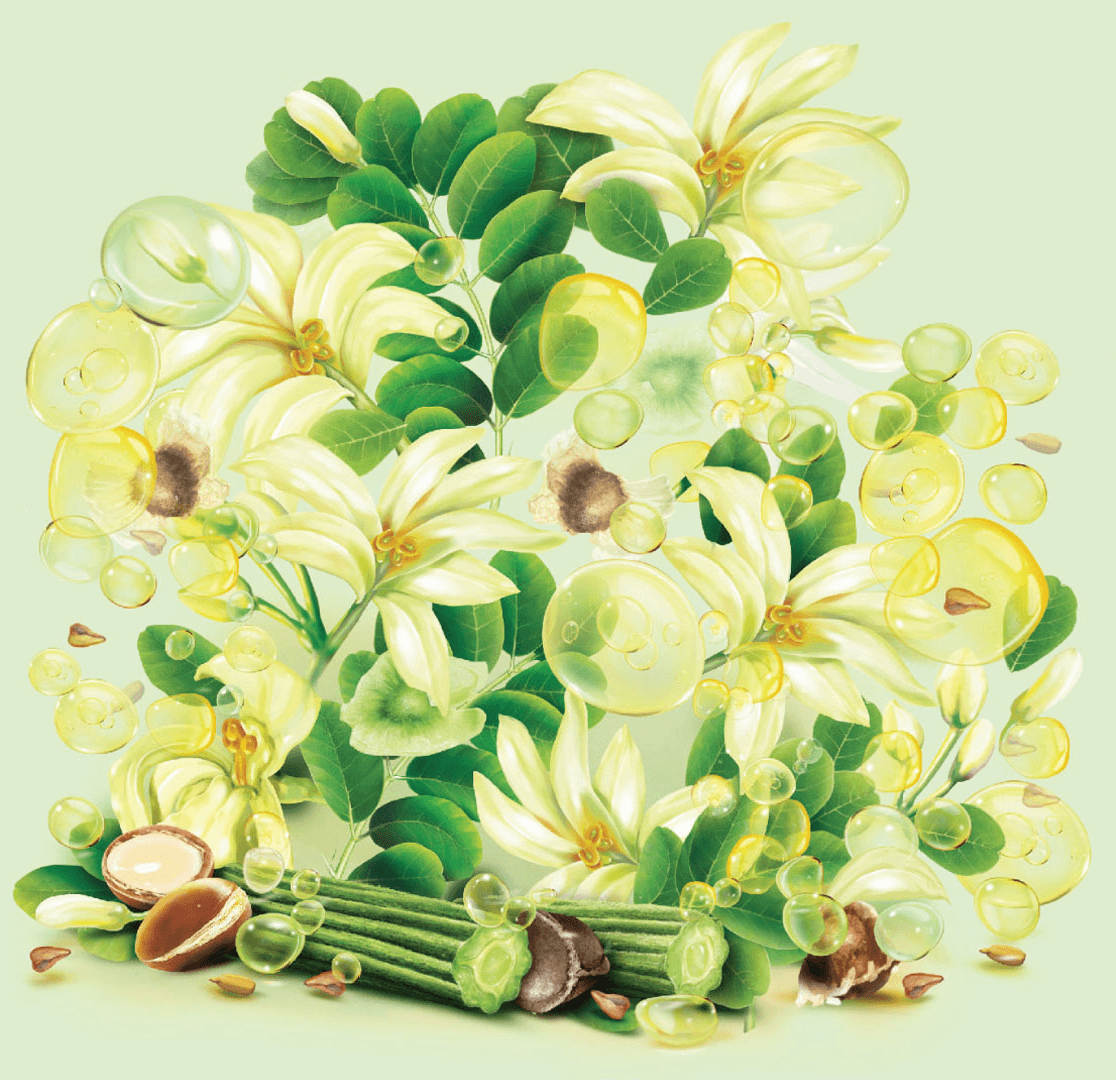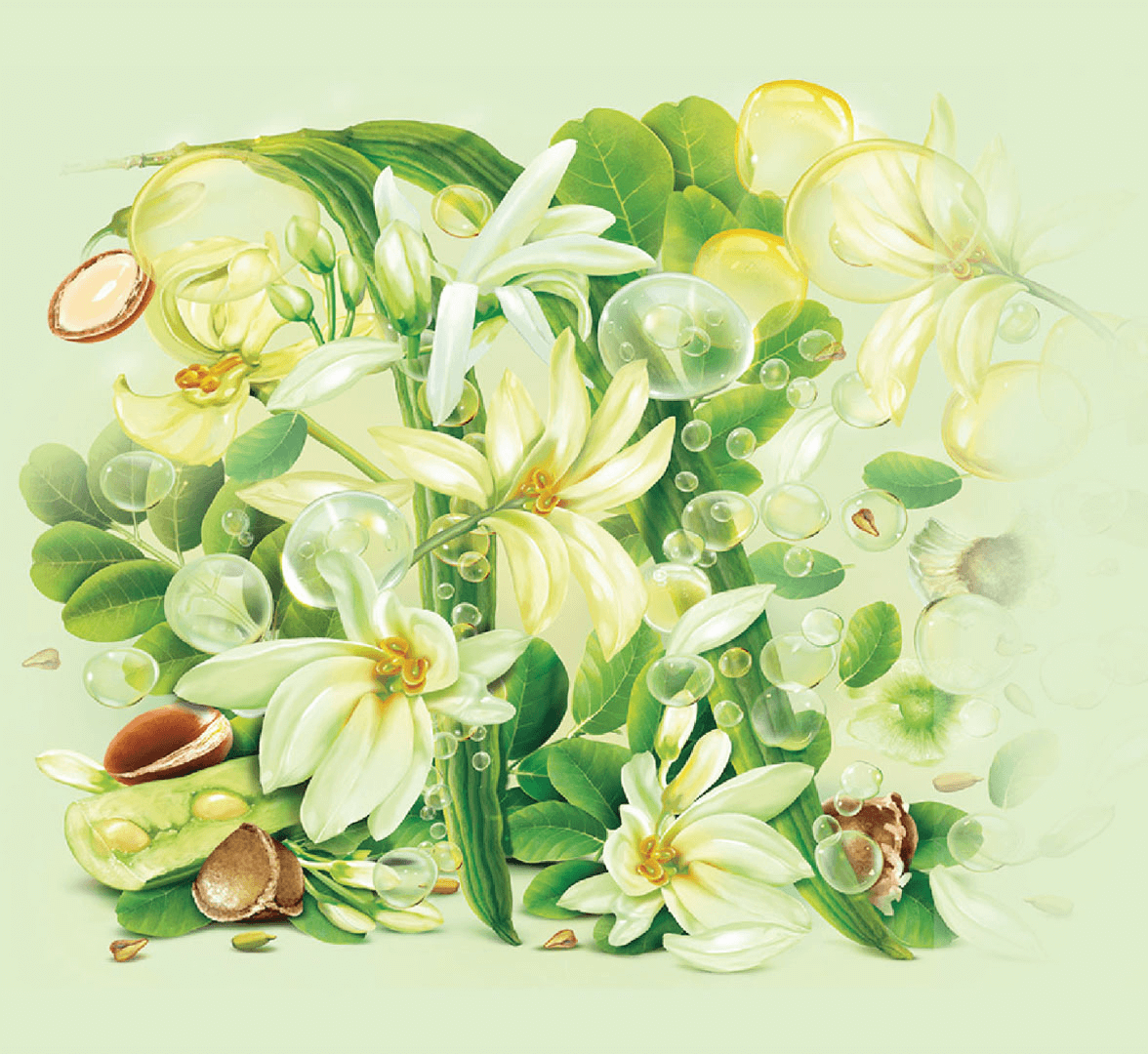 How Zigma8 beautified the beauty products for marketing in Iran
We solved the issue of the unattractive Moringa tree elements by beautifying its ingredients. For the Moringa visual identity, we embraced the product differentiator. We choose to represent its ingredients in a symphony of natural abundance. To do this, we carefully studied the Moringa ingredients and set about beautifying its ingredients by creating curious yet seductive illustrations that float out in a harmonious composition.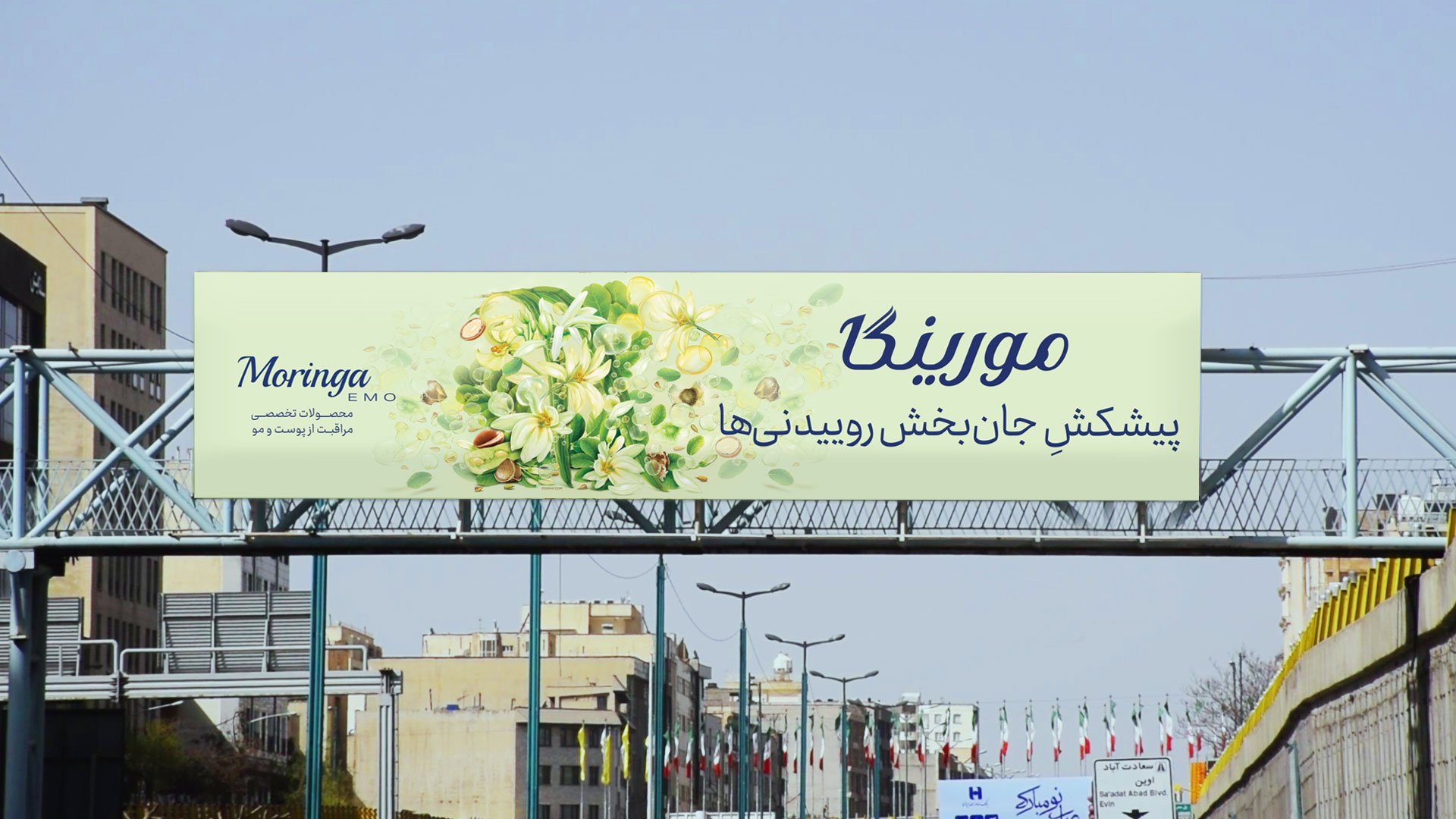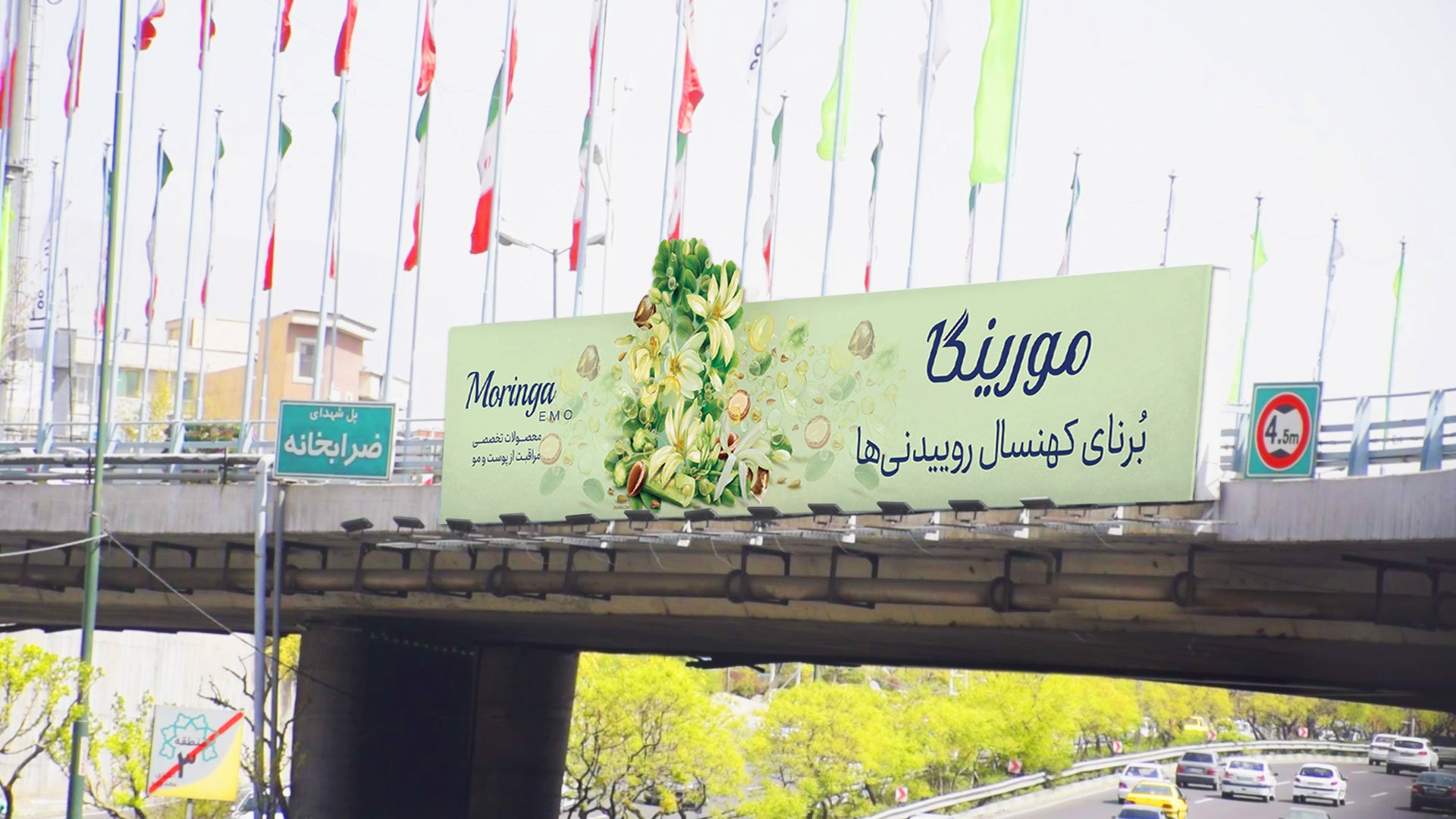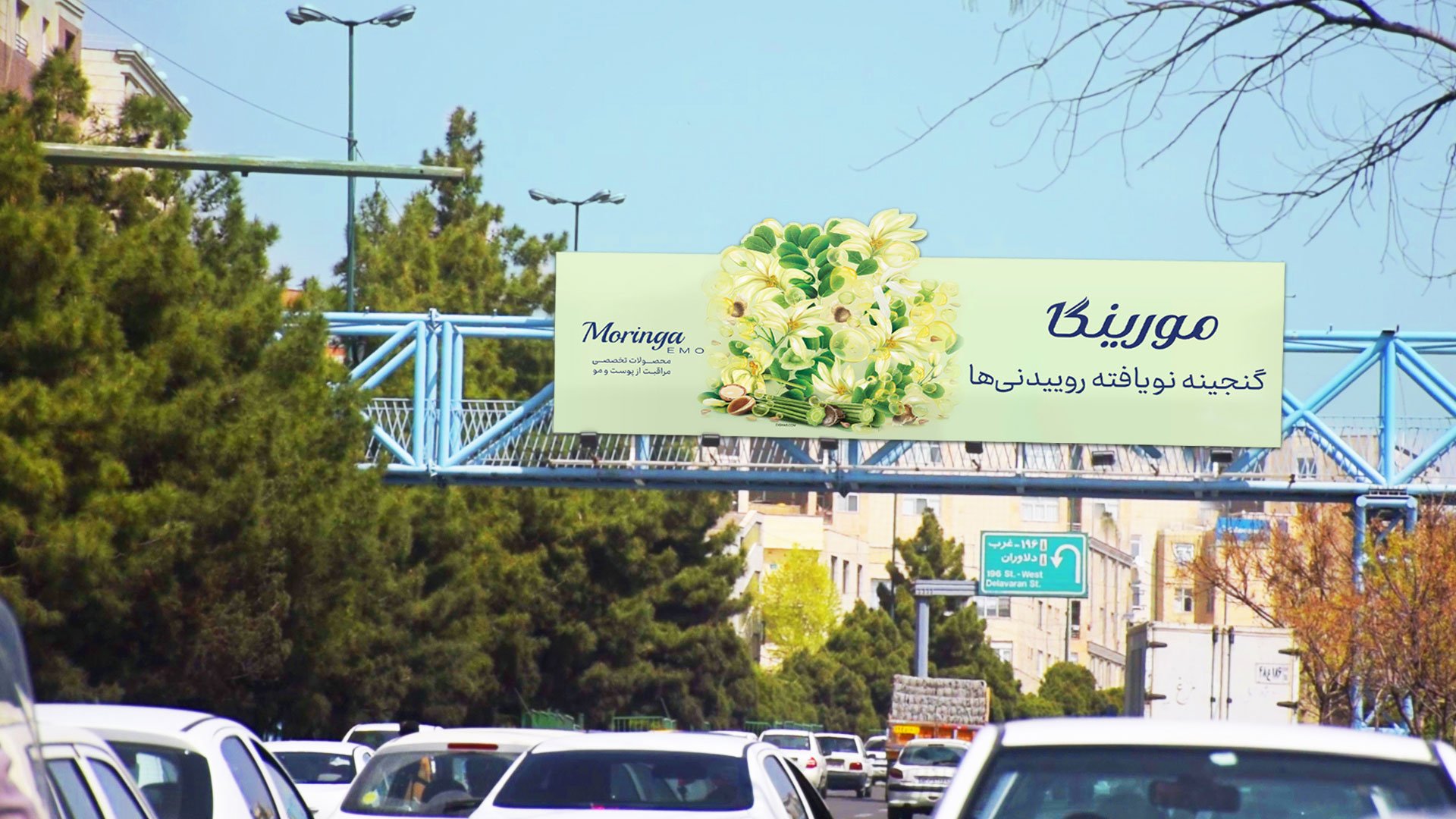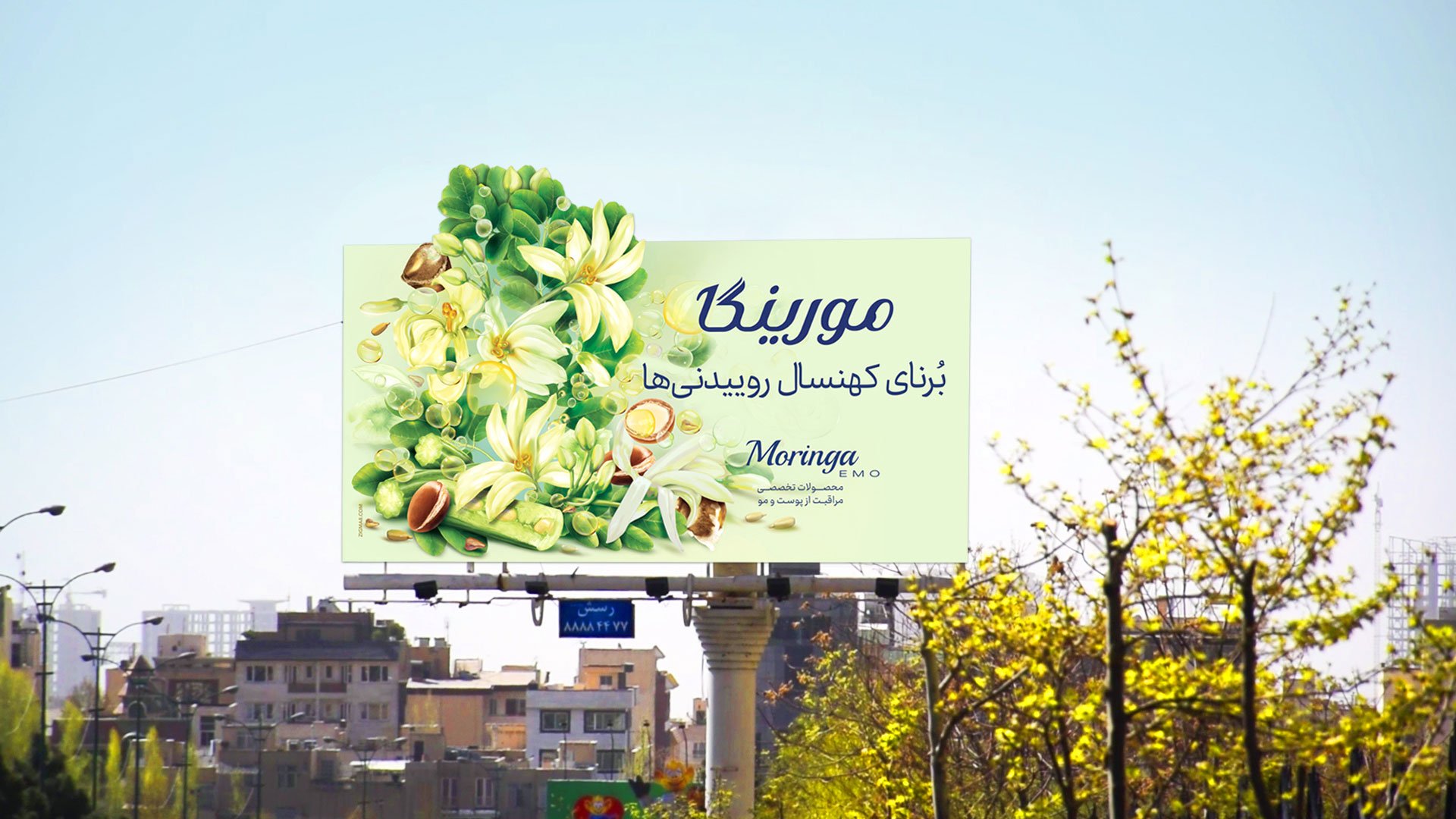 How Zigma8 spelt out beauty when advertising in Iran
For the Moringa verbal identity, we decided to use comprehensible yet aspirational terminology. The result would be to avoid clichéd yet misleading terms that often negatively affect trust. The campaign headlines would poetically conjure a feeling of nature and growth — directly drawing attention to the Moringa ingredients.
How Moringa afforded consumers with a new story about beauty
Our strategy was to afford the target audience a new story about retaining beauty. The brand achieved this by positioning itself as the leader in an innovation story brought about by its ingredients. The audience could embrace this story by knowing that others would later understand and appreciate the seductively presented Moringa ingredients. By displaying high-quality production on premium media and avoiding local market clichés, the brand would feel like the international brands they once enjoyed.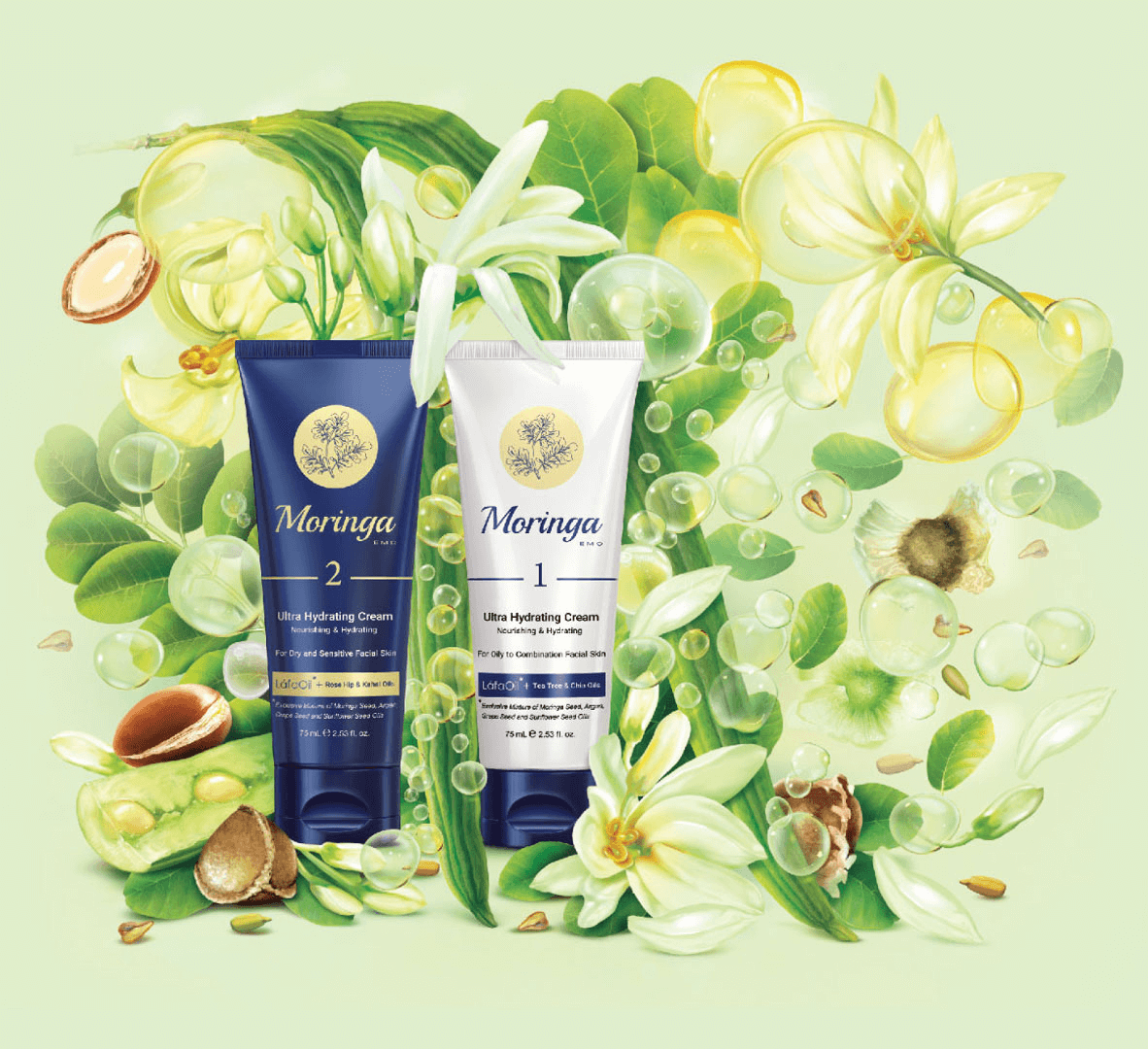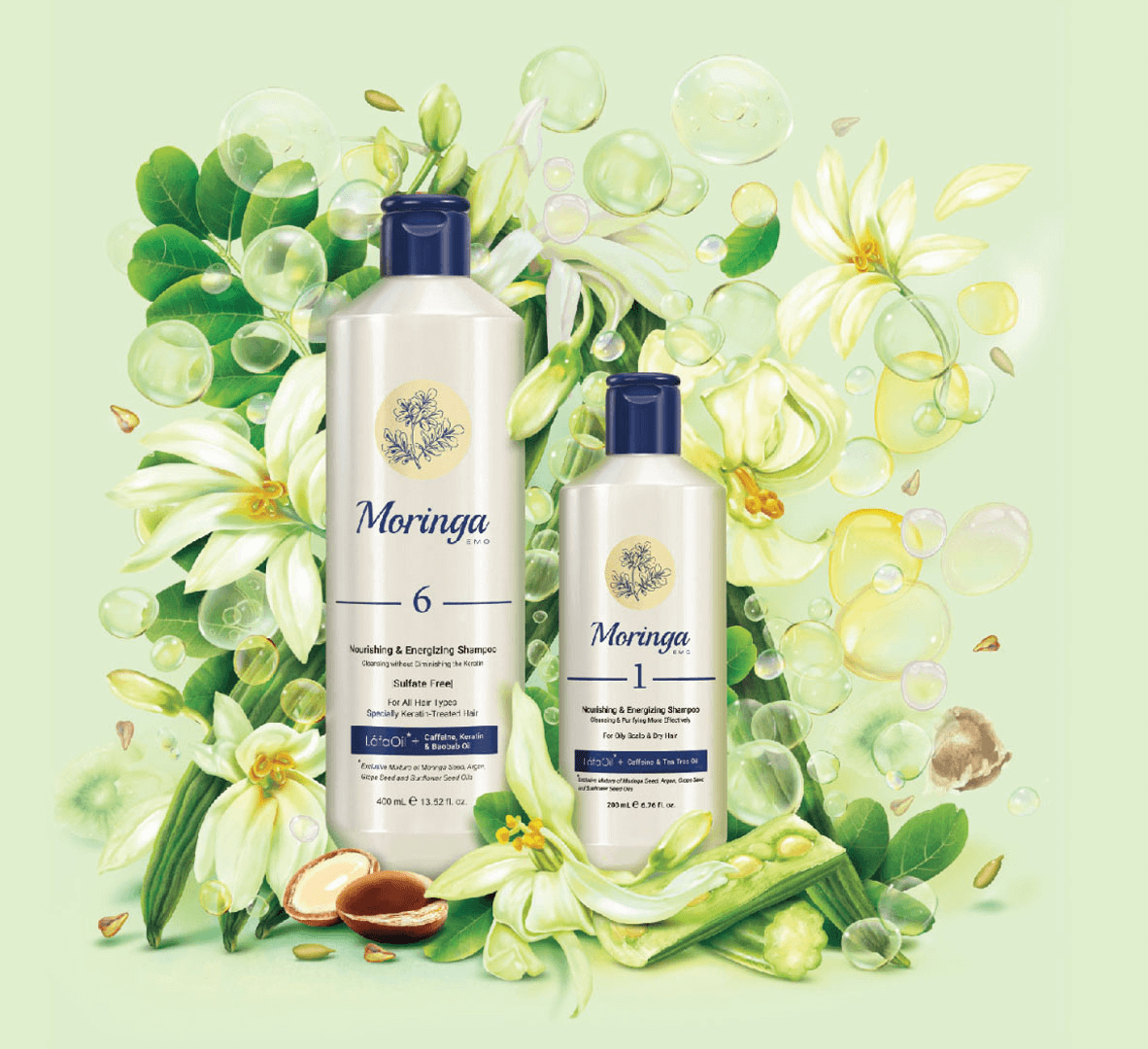 How Zigma8 helped achieve sell-out success for Moringa in Iran
The client confirmed that sales of Moringa products during the campaign met targets and brought a profit on the expenditure. In addition to this, the products sold out in nearly all locations that they were available. In addition to this, Pergas Teb received many requests from retailers wishing to sell Moringa products.
"Being professional in essential aspects of marketing shines Zimga8 from others. Their knowledgeable team with hardworking and problem-solving attitude helps companies to achieve the best possible result. As a marketing director, I have done a full launch campaign project with Zigma8. The team helped us with creative launch campaign idea, Key Visuals, media plan, POSM design, and other essentials. Based on the result, the campaign was successful and Zigma8 had a key role in that achievement."
"Zigma8 were great at understanding our objectives for Moringa EMO. They come with a strategy that is completely deep and is very understanding of the target audience psychology. The strategy showed us a new way to look at media for Iranians. Also, they are very professional and creative because they taught us about the story [method], which I have not heard from my time working with international brands. The strategy helped Moringa EMO get to sales targets before we finished the advertising and also many new shops want the products. We sell out of the products in most shops!
Zigma8 are world-class. Thank you!"